We bring you 10 10 space-saving storage solutions practical and simple solutions to create the extra storage space your home needs.
Baskets: beautiful and practical
The wonderful thing about baskets is that they're practical and decorative in equal measure. And they have endless storage potential – fill them with home textiles, magazines, or even toilet rolls. Our favourites are made from cotton, wicker or rattan because they convey that touch of rustic charm no matter where you put them.
Use high cupboards and shelves
High shelves or cupboards are the best place to store things that take up a lot of space such as blankets, suitcases, etc. But high-up storage shouldn't equal messy storage. A great way to keep things neat is to place them in plain-coloured or patterned fabric or cardboard boxes, depending on your colour scheme.
Add some glam with a hanging chair
Got a redundant corner in your living room? Fill it with a cocoon-shaped chair and it'll soon be everyone's favourite place to sit.
Say yes to benches
Consider switching your dining room chairs for benches – you'll fit more people round the table and instantly make the room feel lighter.
Use the space under the window
The space under the window is easily overlooked – it's often home to a radiator, or we simply forget it's there. Use it! In the bedroom, it's the perfect place for a desk with drawers while a sideboard or low piece of furniture works well in the living room. And if there's space in the kitchen or bathroom, it's a great place for the cutlery or kitchen accessories.
Under-bed storage
Ottoman beds are the answer for small bedrooms. But if you're not a big fan of this type of bed, you can store pillows, blankets and even seasonal clothes in boxes and use the space between the mattress and the floor. Don't forget to take measurements before you buy the baskets, and then get exactly the right size boxes.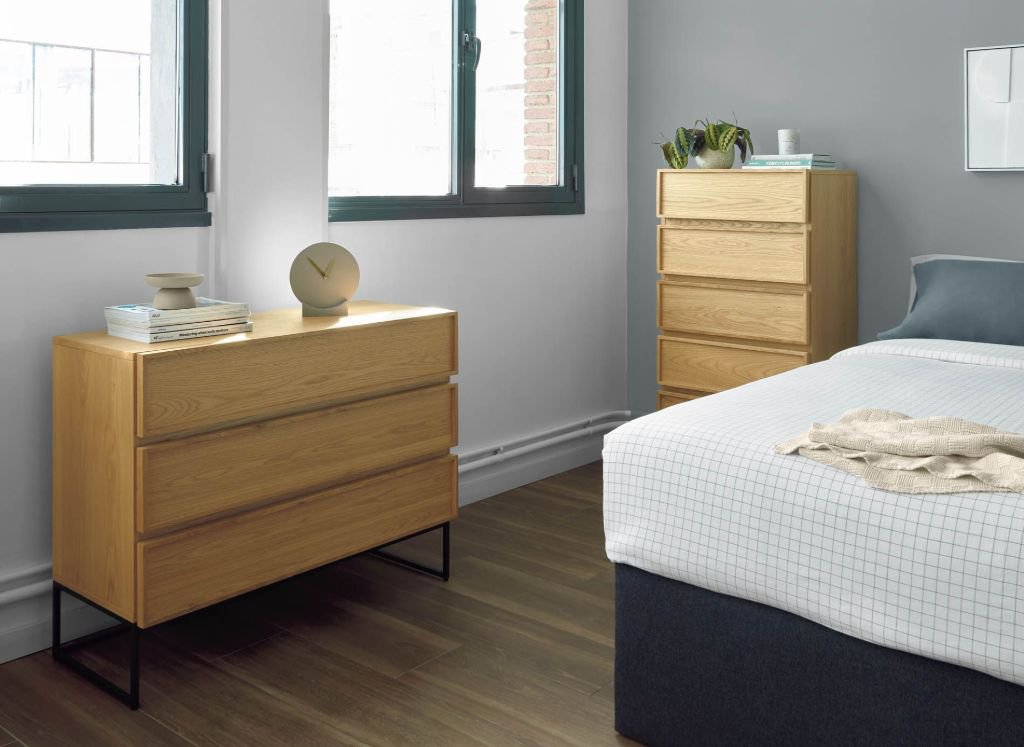 Drawers are the answer
You can never have too much drawer space, and small spaces are crying out for it. Got a small bedroom? Drawers. A mini office? Drawers. And don't forget that the Kon Marie method has the magic formula to making the most of your drawer space.
Decorative boxes for small objects
Hide everyday clutter in small boxes. Everything from jewellery to labels, pieces of cloth, threads, glasses, remote controls, or cotton reels. Keep it all neat in cute decorative boxes.
Reuse candle glasses as storage
Those glasses and jars where your candles once stood can be given a second life. Who knew? To clean any wax from the bottom of the glass, pour a little boiling water inside and the wax will soon melt enough to let you remove it. Once the jar is clean and dry, you'll have an extra accessory to store pens, felt tips, makeup or to use as a vase.
Hangers out, coat hooks in
Hooks and knobs on the wall are perfect for hanging coats, bags and scarves. They take up next to no space at all and you can fix them to any wall. Use them for aprons in the kitchen, jackets in the hall, and bags in the bedrooms. You can even fix some to the inside of a wardrobe door to keep them out of sight.
May 10, 2021, 4 p.m.