Good weather calls for outdoor dinners and all kinds of impromptu gatherings. If you've got a terrace, you're already halfway there. But have you got the right lighting to enjoy it at night? In this post, we share the secrets to the perfect outdoor illuminations.
Think about the style and size of your outdoor space
Balconies, terraces and gardens are all different in their own way and need lighting to match. The objective is the same, however: to combine different light sources without overdoing it.
Play around with wall lights, ceiling lights, floor lamps and table lamps to create different moods according to the occasion and the amount of natural light. For small terraces and balconies, go for a single source that illuminates the whole space, while larger gardens or terraces will benefit from various different lamps to light up the whole outdoor space. Remember that it's more about the position of each element rather than the quantity of lights.
Fairy lights are not just for Christmas
Much more useful than you imagine, fairy lights can be used to decorate different spaces in different seasons. They provide the classic look for a charming summer night and are now a must-have accessory for the chicest kids' bedrooms. Because once you put up your fairy lights, you'll want to keep them up all year.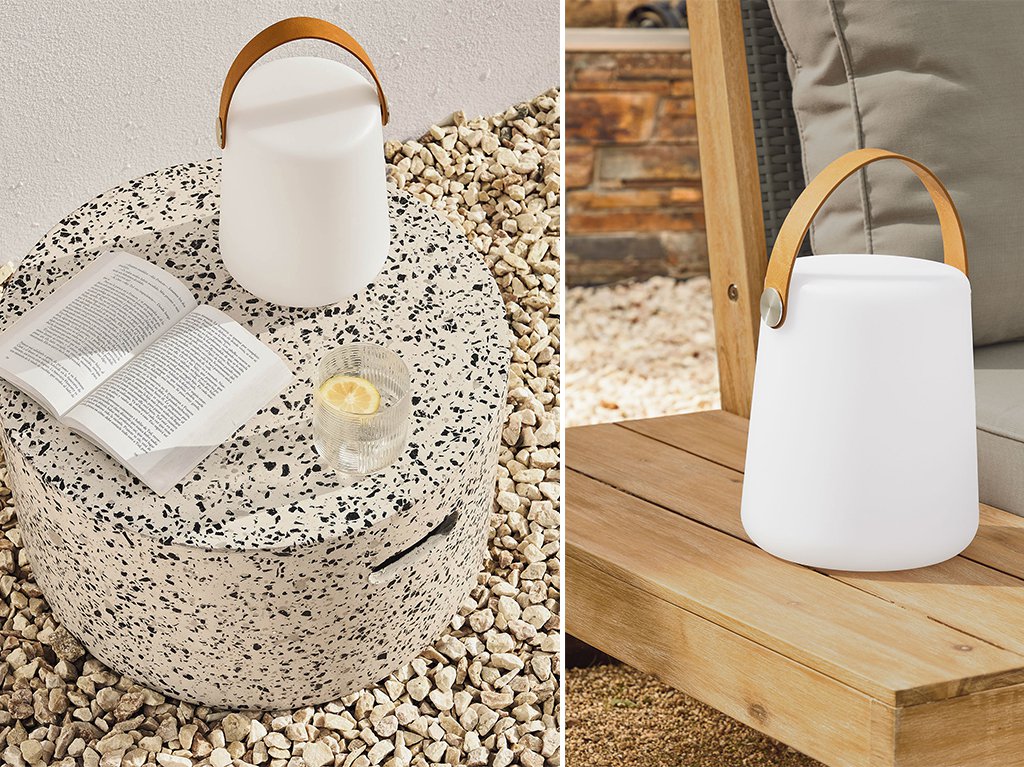 Use indoor lights to illuminate the outdoors
In the same way that natural light enters through our windows to illuminate the interior, we can also borrow the light from our living room for a small outdoor space. In these cases, opt for a subtle light, with no reflections. To find the right intensity, lamps with adjustable settings are your best option. Dialma is portable, too – pick it up by the handle and take it wherever you like. And to power it up, just connect using the USB cable, which comes included.
Create different areas of light
For a large garden or terrace, the installations are a good resource for dividing the space. Think about adding a hanging light above the table you use for open-air dining, a floor lamp in high-traffic areas and a table light next to the sofa in your chill-out zone.
To make sure each of these areas stands out in your outdoor space, choosethe Dinesh collection, which adds a stylish glow wherever it goes.
If you're also thinking about how to illuminate your interiors, take a look at the articles in our Magazine.
March 10, 2021, noon