If modern interior design is your thing and you're hoping to extend the same feel to your garden, you're in the right place. Here we've rounded up some of the best ideas to help you create the modern garden of your dreams.
Less is more in a modern garden
The same golden rule applies for any modern space: less is more. The idea is simply to create a minimalist, uncluttered environment. Stop and consider for a moment how you use your outdoor spaces. Are they just a way to get from A to B? Or do you like to sit outside and relax with a coffee? If you've got a pool and outdoor dining area, this may be one of the most frequently used spaces. To define different areas and weigh up the furniture and décor options, you'll want a clear idea of what you'll actually do in your garden.

Define each space in style
One way of achieving a modern-looking garden is to design it with different defined spaces. A favourite idea of ours is to create a path and line it with pots, plants, and white gravel. Go for materials that make a statement such as wood, bricks, and concrete.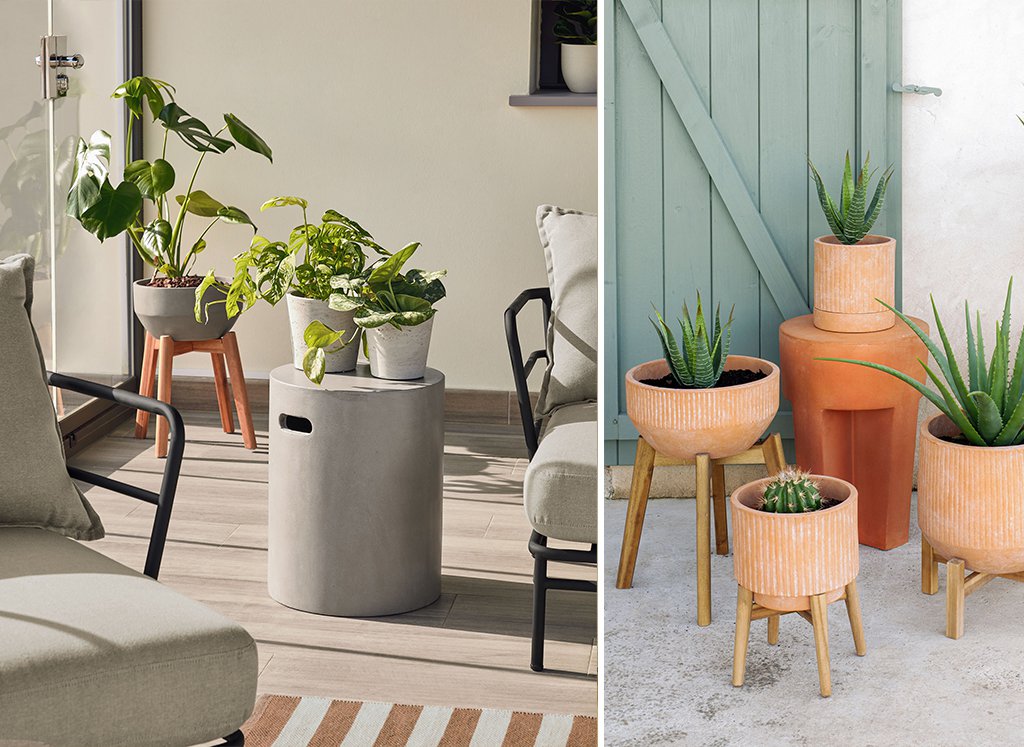 Plants for modern gardens
Every garden needs plants and greenery but if you want it to maintain that clean, modern look, we've got you covered with a couple of key ideas. Bamboo is definitely one of the best options for keeping things looking contemporary while succulents and lush shrubs also offer endless combinations. Any plant from the palm family is ideal for adding vibrant green while contributing to a modern ambiance.

Garden pots
Our top tip is to choose terrazzo pots – they're extremely fashionable and will achieve just the look you're aiming for. Take a look at our set of 2 Lelis pots, which pair nicely with the Jenell coffee table, also in terrazzo.
If you're not convinced by terrazzo, go for terracotta instead. This colour never goes out of fashion and looks good with everything. Discover all our new pots and mix and match them to create a statement corner in your garden.
Original designs in outdoor furniture
Almost as important as the plants themselves are the furniture and accessories you choose for your outdoor spaces.
Samantha, our most modern chair
This design of this armchair is based on the original Acapulco chairs from Mexico. A 50s classic, we've reinvented it with original and exotic colours. Choose your favourite shade and feel smug about how perfectly it matches your terrazzo accessories.

Duka, the coolest sofa
The ideal piece for your chill-out zone, Duka's materials and clean lines give it a modern designer look. It's also modular and will suit any space. Complement the look with a portable lamp and some geometric-cushions – you can't go wrong!

A chair for hanging out
The star item that no modern exterior should be without is a hanging chair. Check out all our designs and choose your favourite.

With these ideas, you're sure to create the modern garden vibe you've got in mind.
April 6, 2021, 3 p.m.