It happens to us all. We love to fill our home with greenery and then we run out of time to keep the pots watered. With self-watering plant pots, you can go on holiday without asking your next-door neighbour to look after them. Who needs a gardener? Not you!
What is a self-watering plant pot?
These pots have a container with a water reservoir system, with a tank connected to a tube that absorbs what the plant needs. This way, you can go about your daily life and make the most of your quality time with your plants. Enjoy them worry-free.
How does a self-watering plant pot work?
The self-watering system in these plant pots is very simple. All you need to do is fill the tube with soil, leaving a little space for the roots. After potting the plant, you can fill the water tank without it overflowing. And that's it! Now the plant has enough water for several weeks, or even a month.
You'll see how the pot comes with an absorbent wick to keep the plant continuously hydrated. It also has a marker so that you can check the level at any time. Keep an eye on it to ensure the plant isn't either saturated or too dry. Fill the tank whenever necessary and, above all, be observant. The moisture level of the earth and the colour of the leaves are the best indicators of what your plant needs.
As well as giving your plants the best care, this system is the most eco-friendly as it replaces watering cans and hoses, which tend to waste a lot of water. As you can see, your plant pots can be a good friend for the planet and, as a side effect, to your wallet.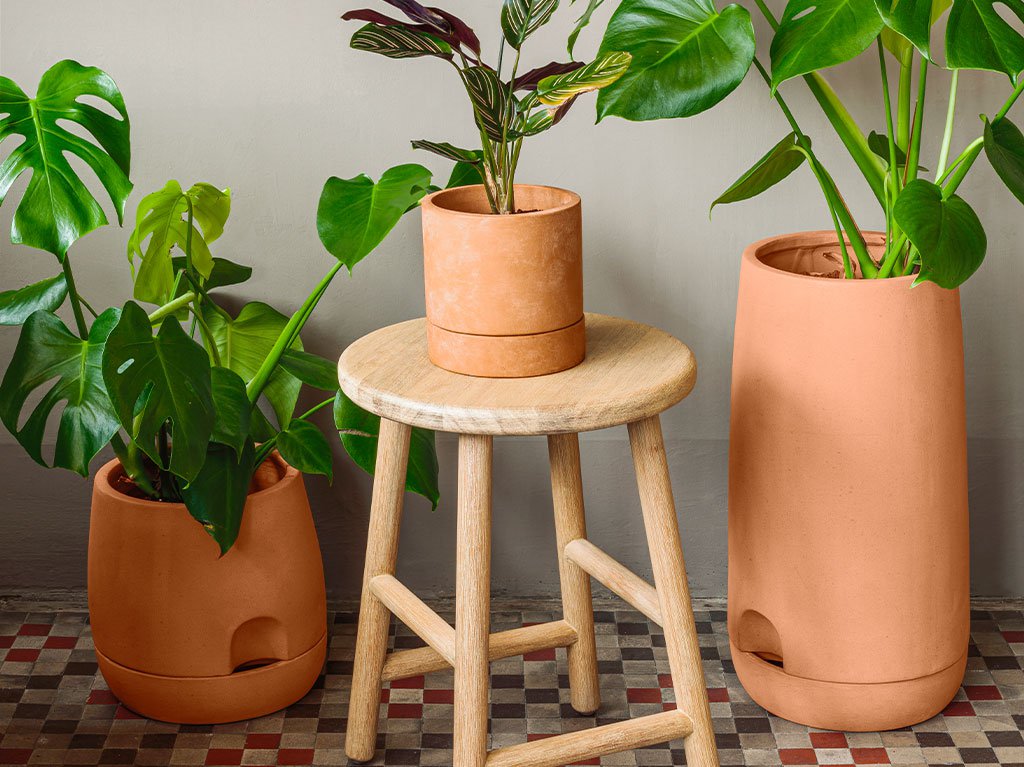 Which self-watering plant should you choose?
Before choosing your self-watering plant pot, you should bear three points in mind, depending on the type of plant you're going to put in it:
Size of the plant: If you've bought a tall plant, the most logical thing is to buy a large pot that will give the roots space to move freely and allow the plant to keep growing.
Material: There's plastic, wood, pottery... but of course, we suggest one made from terracotta. It's an ultra-trendy material that gives any space a natural touch, especially outdoor spaces thanks to its ability to blend in with the surroundings. As well as being porous, which means that it absorbs the excess water that the plant doesn't need, it's weather-resistant all year round.
Location: First of all, it's important to know what our plant needs. If it prefers being indoors or out, if it likes sunlight or shade, and how much water it needs. For indoor plants, make sure that the pot comes with a tray so that your floor stays clean and dry. For outdoor plants, your best bet is a planter with drainage to remove excess water.
Feb. 24, 2021, 9:32 a.m.