We took a tour around Aida Domenech's (better known as Dulceida @dulceida) new apartment in Madrid. She's a top fashion and beauty content creator, entrepreneur, and one of the Spanish influencers with most followers on social media, especially Instagram and YouTube.

Her style and passion for design and fashion are of course reflected in her new house, located in the centre of Madrid - a wonderful haven of comfort she can now call home. Take a look at all her favourites here.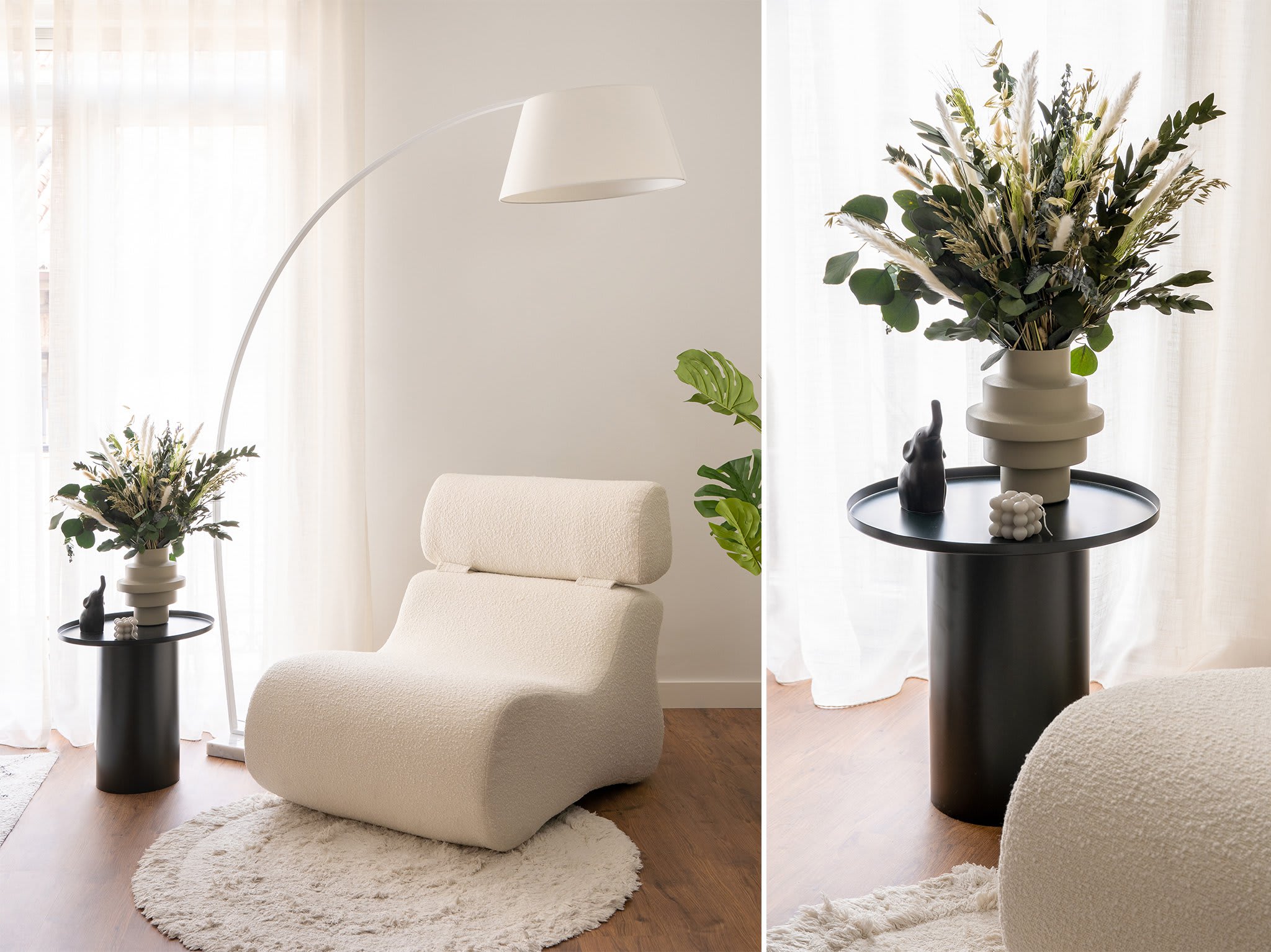 We had a chat with Dulceida and got all the inside info on her new apartment.

1. What's the first thing you do when you get home?
As soon as I get home, the first thing I always do is flop onto the sofa. The Blok sofa, is definitely a favourite and the place I've already spent many hours (and days!).

2. You've taken an important step by looking for a new home in Madrid, so what persuaded you?
I took the flat in Madrid because I have a lot of work here and I spend a lot of time in the capital. I wanted to have my own space and feel that I have my own home. My life is divided between the two cities and I needed to have my own little nest here.
3. Tricky question: Madrid or Barcelona, which is your favourite or which one do you identify with more?
I would love Madrid and Barcelona to be fused together because then I think it would be the best city in the world. But I'd definitely choose Barcelona, because I have my friends, family and the sea here, and it's my home city.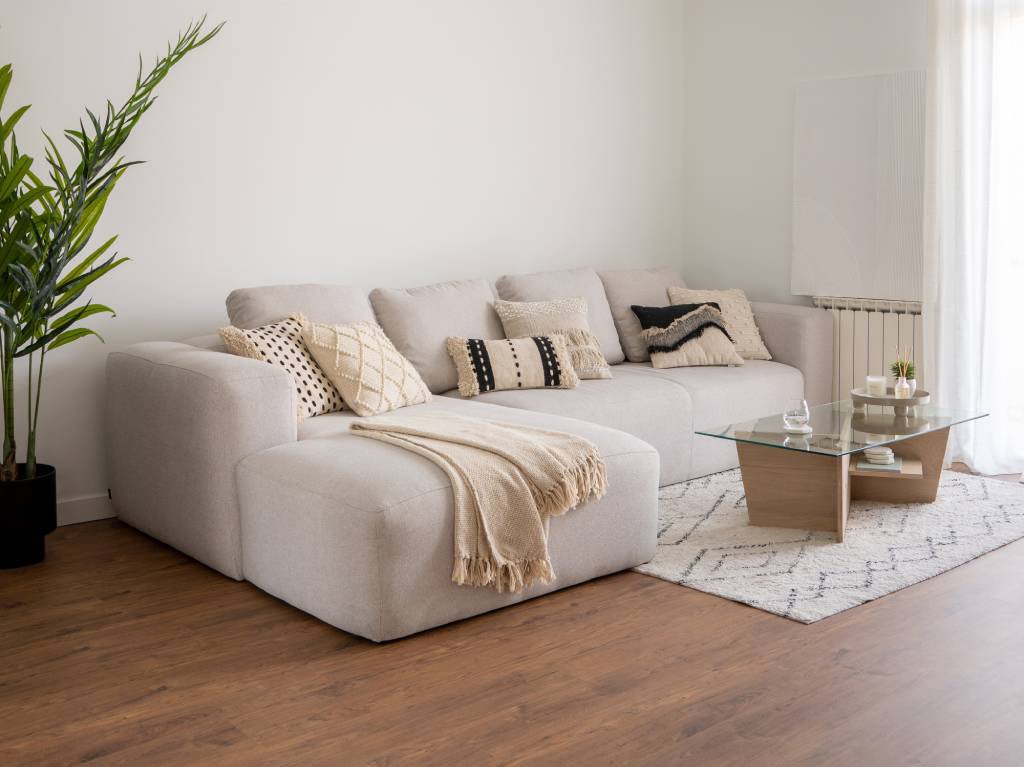 4. What attracted you most about Kave Home?
What I love about Kave Home is that it has a great variety of styles, but each piece has a very distinctive essence and a special quality about it that immediately tells you it's from Kave Home. And I know that this is very difficult to achieve.

5. What's your favourite piece of furniture from Kave Home?  
My favourite piece of furniture? Well, I couldn't choose just one! Looking at the pieces I've chosen for my house... I'd say the Club armchair, because the design is spectacular and it gives the living room a unique touch. Also, I was pleasantly surprised, because it's the typical chair you see and you wonder whether it's actually comfortable... but when you try it, it's amazingly comfortable and everyone wants to sit there. As for the Blok sofa, well you've already seen how much I love that!

6. How do you organise yourself having two homes?
Sometimes it's a bit chaotic, but now with this new home, I'm sure I'll be better organised.
7. Do you take your work home with you?  
Yes, absolutely. I take my work home with me, to bed and everywhere else. I find it hard to switch off!

8. Do you like buying souvenirs to decorate your home and bring back a little bit of each place you visit?
I have a habit of collecting number plates with the names of cities on them. I've got them all at home in Barcelona, and when I look at them I think: "Wow, I've been to a lot of places!" I also like to decorate with personal souvenirs, especially photos, which is the only thing I still need to bring back from Barcelona to feel more at home here.

9. What is your favourite outfit when you're at home?
Normally in winter I like to wear an oversize sweatshirt and in summer I usually wear very comfortable pyjamas or shorts with t-shirts, but always something comfortable and barefoot!

10. What is your guilty pleasure? 
Sleeping. I could sleep 14 hours a day if I had the time, and I love taking naps on the sofa!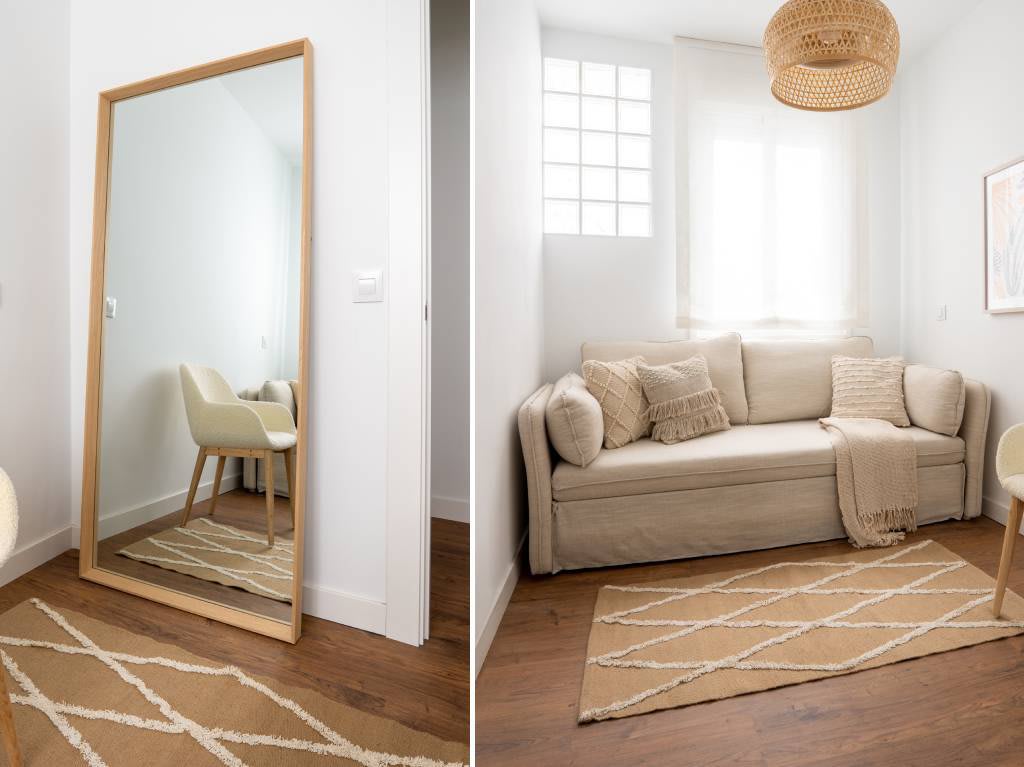 11. Tell us a must-have item in your Madrid home.  
The sofa and the TV. It seems silly, but having a comfortable sofa where I can relax is so important for me and it's not always possible. It's my moment of disconnection!

12. Do you think your home style is similar to your fashion style?
No, it bears no relation. My fashion style is very diverse but in my home I look for tranquillity and peace.
Those who know me, know that I am very chaotic, but inside me I crave tranquillity, which is why I wanted to capture that in my home by choosing neutral colours and a spacious and bright apartment.

13. Best plan: Home movie and a blanket or dinner with friends at home?  
There's no way I could choose! I think my best plan would be: First dinner with friends at home and then a film on the sofa with a blanket.

14. How do you imagine your house ten years from now? And living where?
In Barcelona, in a big, bright house.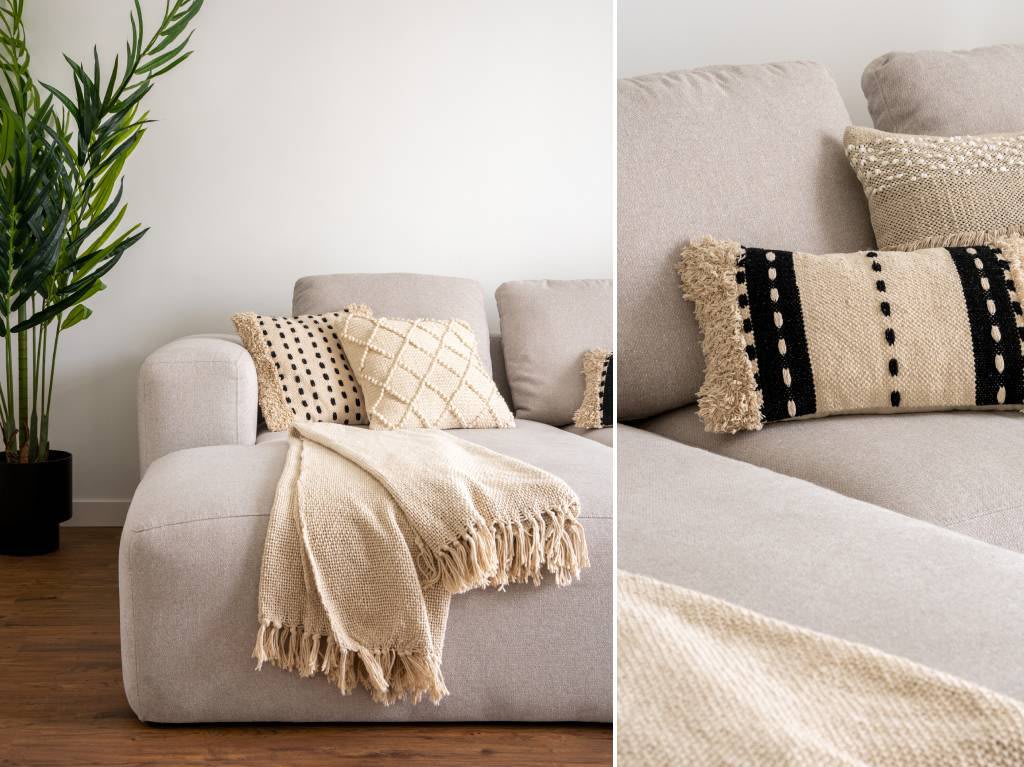 We sneaked into her house to have a good look around 
The Kave Home team were the first to step inside Dulceida's new apartment. Ready?

A very Instagrammable living room
The living room is the main room in the house. An open and bright space, full of design trends. We explored every corner and all the pieces she's chosen from Kave Home.

The main furniture Aída chose was the Blok sofa, which stands out for its comfort. Did you know that it's also the favourite of many other influencers and celebrities? Like Jonan Wiergo, Oh! MamiBlue, Carlos Sadness, Patry Montero and Moderna de pueblo, among others.

A much-photographed (and sought-after) corner is the one she's created with the Club armchair in white faux shearling, which is a very on-trend fabric for clothes and now in home furniture and textiles too. She complements the look with the Kave Home Fleksa side table in black metal and the Shantay TV unit, which is a very practical and functional piece that's ideal for small corners.

Where will her next selfies be taken? For this space she chose the large Nerina mirror, an everyday essential for her.
This is her living room, her new favourite room, and ours too!
Check out all the pieces of furniture and décor Dulceida has chosen for her new home.
March 29, 2022, 10:29 a.m.