Setting up your outdoor space and noticed a lack of greenery? You're in the right place. To complete the look in any space, nothing beats plants – especially outdoors, of course.
1. Use the cool colours

Green + terracotta = a winning team. As well as its unique tones and textures, terracotta has a vibrant natural colour that sets trends all on its own. If you love to rock the latest look, you can't miss our new designs. Discover the plant pots Denpasar, Subject and Dalva – our secret is to combine them all. They're all made from terracotta and will look after your plants indoors or out, as they're waterproof and UV-resistant. Made from a mineral-based material with a wooden stand to give your plant more sunlight, these planters add a natural look to any space.
2. For your favourite spot

Presenting the Leonitis artificial plant. Not too big and not too small, it's the perfect size to style a side table. It adds a touch of colour, too – the pink planter has earned its spot on your terrace, without a doubt.
3. For a little splash of colour

If you want to add a natural feel without going over the top, we suggest the Lavanda plant. Its dinky size makes it perfect for any little nook. To go a step further, put it next to the Eucalipto planter – their similar looks make them the perfect match.
4. If you're short on space:

Hang your plants up! The Henrich planter is your ally if you want to create an original, creative look, or if you lack floor space to devote to plants. This design is made from natural fibres, treated and woven by hand. It also has a rope with a knot at the end for easy hanging. A designer piece for an eco-friendly interior.
5. If you've got plenty of space:

Think big! Add a large, stunning plant to your outdoor space and fill it with life. Don't be afraid! There's no such thing as too much greenery. Check out our artificial Palmera or Banano trees. And for the pot? Let nature help you out. The Oriole planter is made from solid teak, cut from the same branch and cut by hand. Made from a natural material and crafted by hand, each planter has its own unique tones and patterns. What's more, its polished finish enhances the natural shapes of the tree trunk. This piece is also eco-friendly – it has the FLEGT certificate to guarantee that the wood has been sourced from sustainable forests with responsible felling.
6. Aim high
To decorate your terrace, it's important to remember that your planting needs to be at different heights to create different areas and visual continuity. Choose tall planters, like the set Stared set or the Merida collection.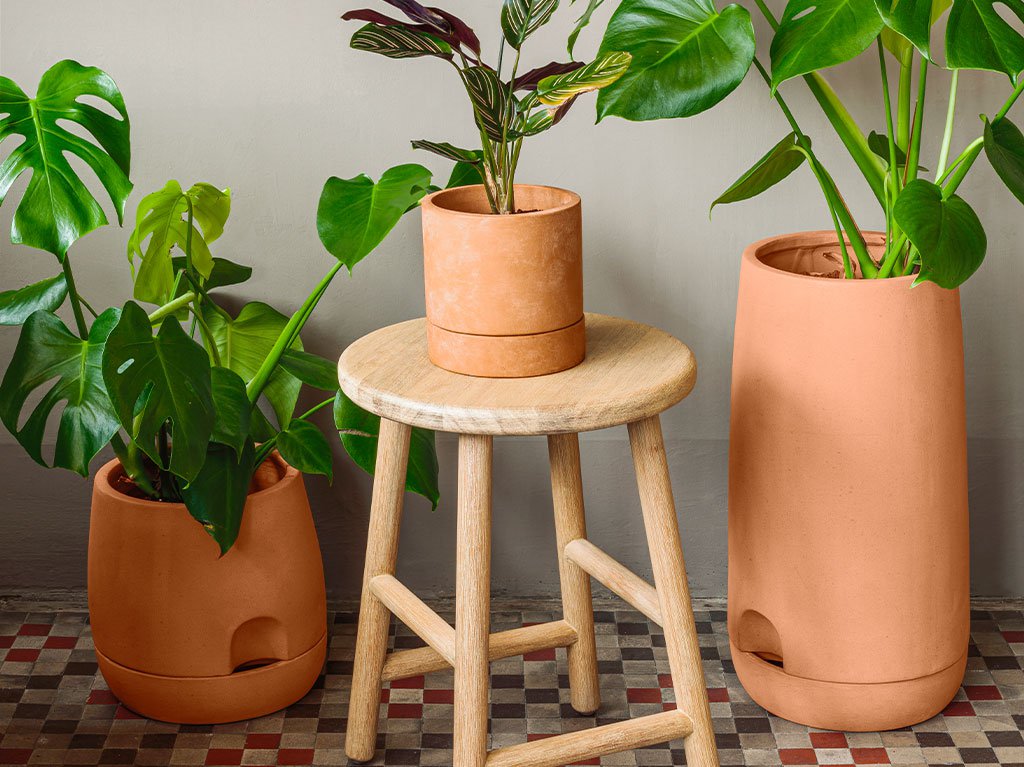 7. Mix and match tones and materials
Don't be afraid to mix and match – using different styles of planters and plants is the key to creating the jungle effect you're looking for.
Now's the time to fill your terrace with plants. Even if you don't live in the middle of the countryside, you deserve a place where you can switch off and connect with nature.
March 25, 2021, 2 p.m.