We're all looking to make positive changes in 2021, and they're already happening on the interior design scene. Emerging trends are revealing new ways to revamp your bedroom and give it a signature style of its own.
Grey and beige, a match made in heaven
Grey has been gaining ground in leaps and bounds in interior design for some time now, and has even found its place in bedroom decoration. This year it takes on a whole new meaning: greige is the new beige.
Remember how beige was all the rage just a few years ago? Well now it's back with a vengeance, bringing with it a whole range of new tones, specially blended with greys. Mix the cool colour of simplicity and minimalism with a touch of warmth to dial your bedroom décor up a notch. 2021, bring it on!
Wallpaper
When you find one simple and convenient solution that also adds style to your interiors, it's bound to be a popular choice. There are endless options when it comes to wallpaper, from neutrals to original patterns. all of which are perfect for making a personal style statement. Our top tip: papering just one wall to match or contrast with the tones of the other walls and décor. It creates a highly original touch that's not easily achieved with pictures and other decorative elements alone. And not only is it super simple, you can also do it on a budget!
Minimalism
The simplicity of Nordic style has crept into bedroom interiors in recent years, with colour palettes based mainly around neutral, pastel or light tone. Combined with discreet and functional bedroom furniture that reflects natural light, the minimalist Scandi look creates an enveloping sense of relaxation. Less is definitely more!
Natural materials and hand-crafted products
Continuing the theme of simplicity, this trend is based on furniture and décor elements produced from natural materials or using artisan techniques. These too have that tendency to connect us with nature and add a warm touch to our interiors. And being of natural origin or made by hand, no two products are exactly the same; they each have unique tones, patterns and shapes.
Our favourite part is that they are kinder to the planet, help promote traditional techniques and are perfect for eco-friendly interior decorating. Hand-crafted products are here to stay!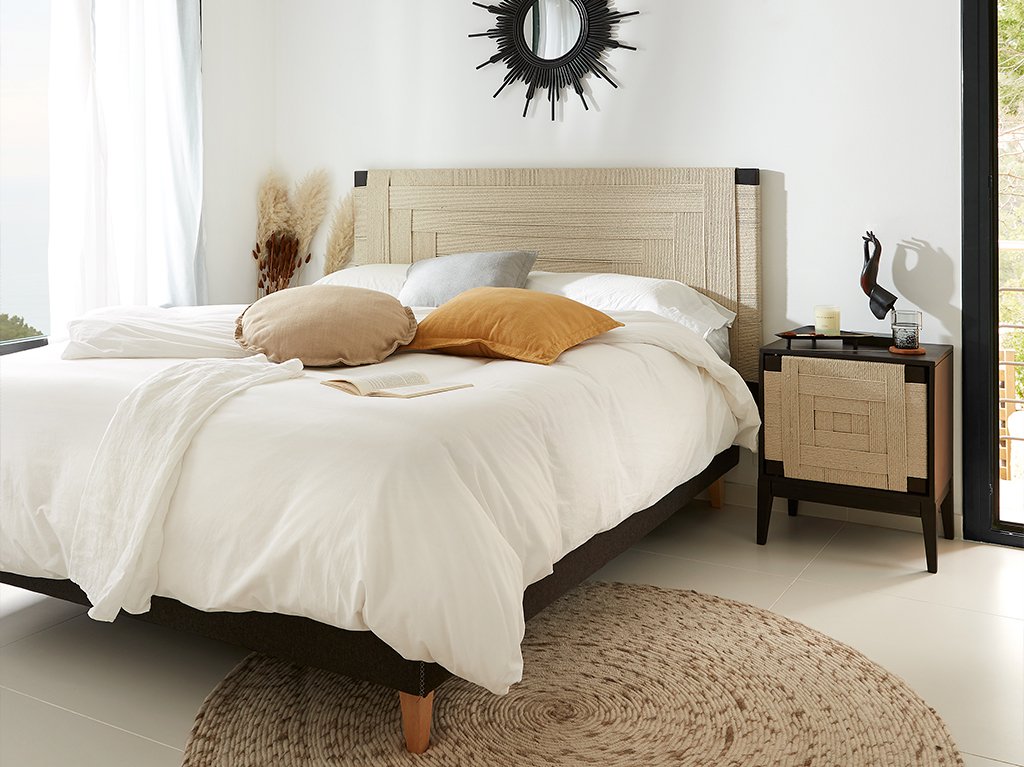 The little things count the most
It's not so much about trends as a way of life. If 2020 has taught us one thing, it is the importance of having a space where we feel comfortable. Your bedroom is much more than just a place to sleep and it doesn't take much to turn it into your very own haven in which to unwind and relax. Find a style that expresses your personality and the rest will take care of itself.
Still looking for bedroom décor inspiration? Our Magazine has all the secrets. Click here and get inspired.
Feb. 11, 2021, 1:03 p.m.