With his signature mane of hair and indie look, singer Carlos Sadness (@carlossadness) showed us around his House Papaya. We spoke to him to find out more about his world, inspired by tropical fruits and mysticism.
With four albums under your belt, a huge social media following, concerts, collaborations, trips... when do you have time to enjoy your home?
I do get time to enjoy my home because even though I travel a lot and am away almost every weekend, there's the whole creative aspect of my work, which means being here and enjoying my place. And in fact it's a lot more than you'd have with other jobs.
Where does the name House Papaya come from and why did you give it to your home?
The house is called House Papaya because I have a song called "Amor Papaya" which is perhaps not the best known but it is very iconic. The people who listen to me and follow me tend to associate this fruit with me. Almost every day I see stories of people going to the supermarket, seeing a papaya and tagging me in their photo or story. What I wanted, if I was going to share things about the house on social media, was for it to relate it to something of mine, and the papaya served me more for the name than for the inspiration, because I don't think the house is as tropical as a papaya.
For your house to be a home, what does it need to have?
For my house to be a home, it needs to have things that I identify with and that are part of me. Things that I bring back from my travels, such as the masks I have in the studio, or like my father's records or the paintings I might have seen when I was little, like Rousseau or Hockney. Little things that I notice when I look around and instantly know that I'm in my territory.
Tell us a little bit about your chosen location.
This house is in the upper part of Barcelona, almost as far as the Tibidabo, and is an area that I've been attracted to since childhood because I came with my parents once and it felt like a real excursion. Suddenly you could smell like pine trees and see the whole of Barcelona. So I've always loved it, and in fact as a teenager I had a dream where I lived in a house in this area. So when I found a place to stay here, I immediately connected with those experiences I had as a child and as a teenager. I had seen lots of houses and whenever I looked around, the reality never lived up to the pictures. This one it was very different – I just went: "Wow! Yes, I can see myself living here."
Tell us a little about the interior design project of the house.
One of the most important things for me was natural light. As I work a lot at home, I like to see the progression of the day. I remember that I used to be in a room without a view and suddenly I could spend hours working and without realising where the sunlight had gone. It was something that I really missed so it was very important that most of the house got the light and that it had some views, because I wanted it to give that kind of inspiration that you get when you can gaze far beyond the house, even though you're working.
How did you want your interior design to capture your personality?
My personality will gradually find itself. The house is still very new and doesn't have much in it. There are few things, like the records I had at my parents' place or the paintings that I've picked up throughout my life, also the masks that I brought back from Latin America. I need to put them up. I think that those little details that I find around the house are the ones that will keep me connected to lived experiences, which will make the house feel more like me over time.
How would you define the style of your house?
I have a bit of a hard time defining the style of the house because I don't want to put a label on it. I like to mix things that I like from any style. The house was built in the 50s – 60s, so I liked that there was that midcenturyfeel in some of the furniture and in the pictures that I chose by David Hockney, which also coincide with the mood of that time. Then there are things that are maybe a littlemore rustic, a little more artyor that oldBauhaus-type style. I'm going to keep on combining pieces that I like and that I think fit together as I find them.
How important is the space you are in when you are making music? What are the essentials that have to be there?
I think you can make music anywhere. Sometimes I come up with ideas and when in the shower and there's not really any view. But it is true that later, in the development of those ideas, I give a lot of importance to be able to look outside the house. Views and natural light matter a lot to me because they put me in a setting beyond the four walls within which you use your imagination to compose.
Your music conveys good vibes and is full of life. How have you captured these values through decoration?
Relating the style of my music to my home is difficult, somehow, because I don't want to fill my house with my things or my records and have to see myself everywhere. Mirrors are enough. But yes, somehow we find that colour palette that I imagine is in the songs and videos, perhaps in a more neutral way so as not to live in a world of colours, either. At home, I look for that life and artistic aspect that the aesthetics of my albums and videos have, especially in the plants but also in the images of the pictures, and the little elements whose colour palette takes you to your artistic world.
What music is playing at Carlos Sadness's house?
Around here it mostly sounds like bossa nova. Old bossa nova, like João Gilberto, those songs from the Ipanema neighborhood in Brazil. I like having that as the background music. And then it depends on what you're doing, for example when I'm cleaning, I put on something with a bit more bass. But in general a lot of bossa nova.
When you have guests, what do you like to your home to transmit? What feelings do you want them to leave with?
When I have guests I like them to connect with those things that we've talked about that are very me. Above all, what I bring back from my trips, which I don't want to go on about but has somehow soaked it all up, and suddenly we find a photo that we took with this friend or that musician who accompanied me in Ecuador and we took a photo with in a classic in the street. I really like having it there and having that friend come and find that memory of us together.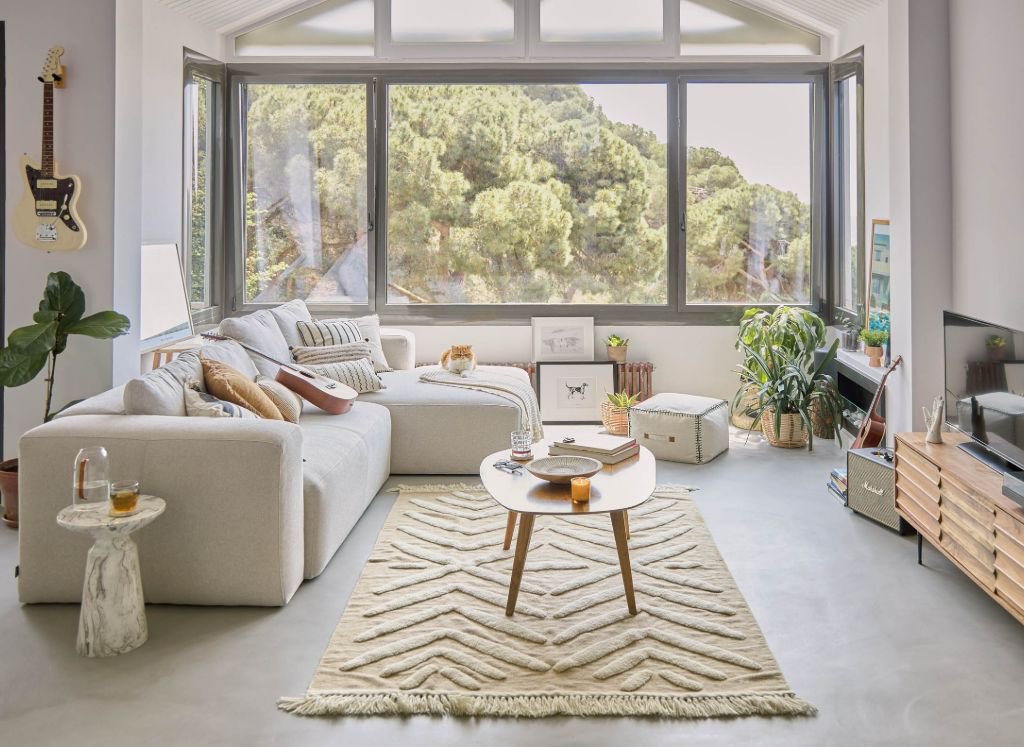 Where in the house do you find your inspiration?
For me, the most inspiring and vibrant area of the house would be the living room. It is very open, it has a corridor and an entrance, so I'm slightly obliged to make it the place where I spend the most time because it is the one that encompasses most activities. The idea I had for the house is that you could find a way to develop an idea or inspiration anywhere. I love the fact that you can be in the kitchen and if you find an idea that you like, you can get to work there right away and feel at ease. Often, changing what you're doing at that moment breaks the main idea a little bit and I'm a strong believer in the instinct of ideas as they arise. I like being able to develop ideas in the place where they appear.
Where can you usually be found when you're at home?
In bed sleeping. Oh, no... I really like the living room for its views of Barcelona, but there is also a garden with a space where I want to put a hammock and that will definitely be a good place to find me.
What did you like most about Kave Home?
I really liked the way Kave Home wasn't married to any one style. It has a personality of its own that balances modern trends and with an artistic, colourful nature that I immediately connected with. It immediately caught my attention because it gives me lots to play with when it comes to combining different things.
What is your favourite piece of Kave Home furniture?
My favourite Kave Home piece is the Delsie. It has that crossover of mid century styles but at the same time an organic, natural and design. Above all, I like how it plays with light because as it has shapes that come and go, throughout the day and the light changes its vibe a little bit. When people come over, they often tell me how much they like it.
If you'd like to steal the look of House Papaya, discover this selection of Kave Home furniture and homewares.
July 20, 2021, 8 a.m.