The Comfy House is comfort in its purest form, because there really is no place like home.

We're firm believers that an on-trend home can be a comfortable one, too. Presenting an extensive collection of iconic pieces covered in the fabric of the moment: fleece. Shades of beige, grey and white tones are everywhere, contrasting with the solid sustainable wood of Rasha, our latest collection of in-house designs.

Let's take a tour of an open-plan apartment where all the rooms are interconnected and comfort rules every inch.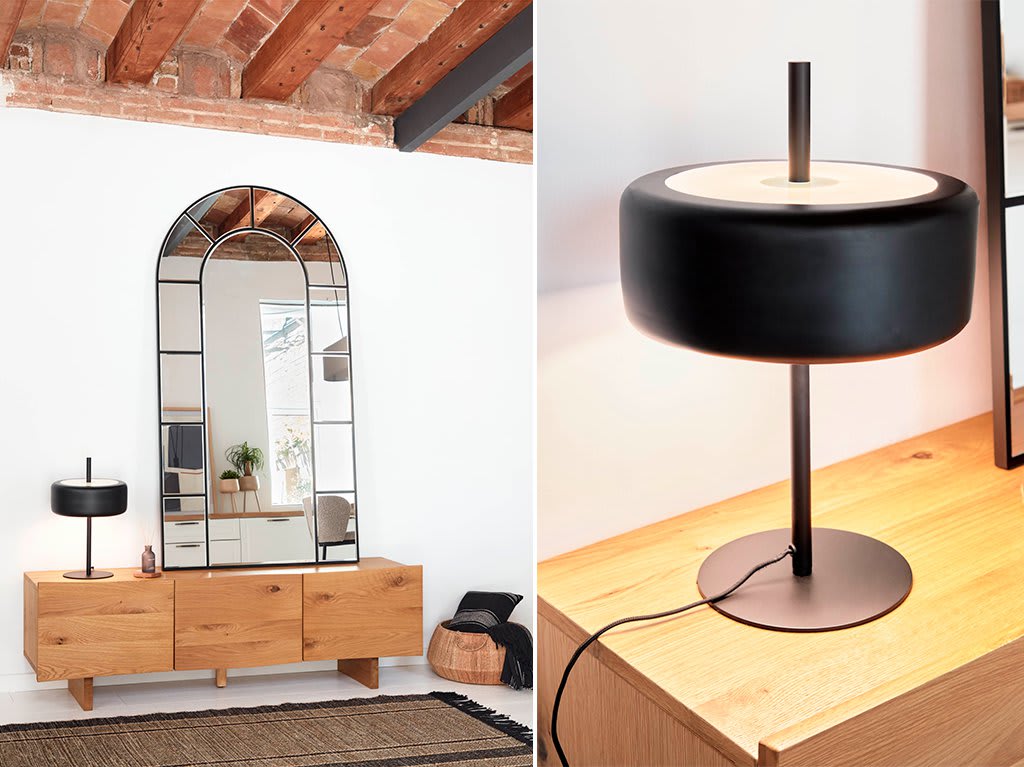 Triumphant homecomings
The warmest welcomes happen in a space like this. The Nediva mirror has a frame finished in black and a window-style design. And at 165 cm tall, it's perfect for looking yourself up and down and checking out your latest outfit. What's more, it's also the ideal way to make your interiors look bigger and brighter.

Add the final touch with the Francisca metal floor lamp with black and glass finish.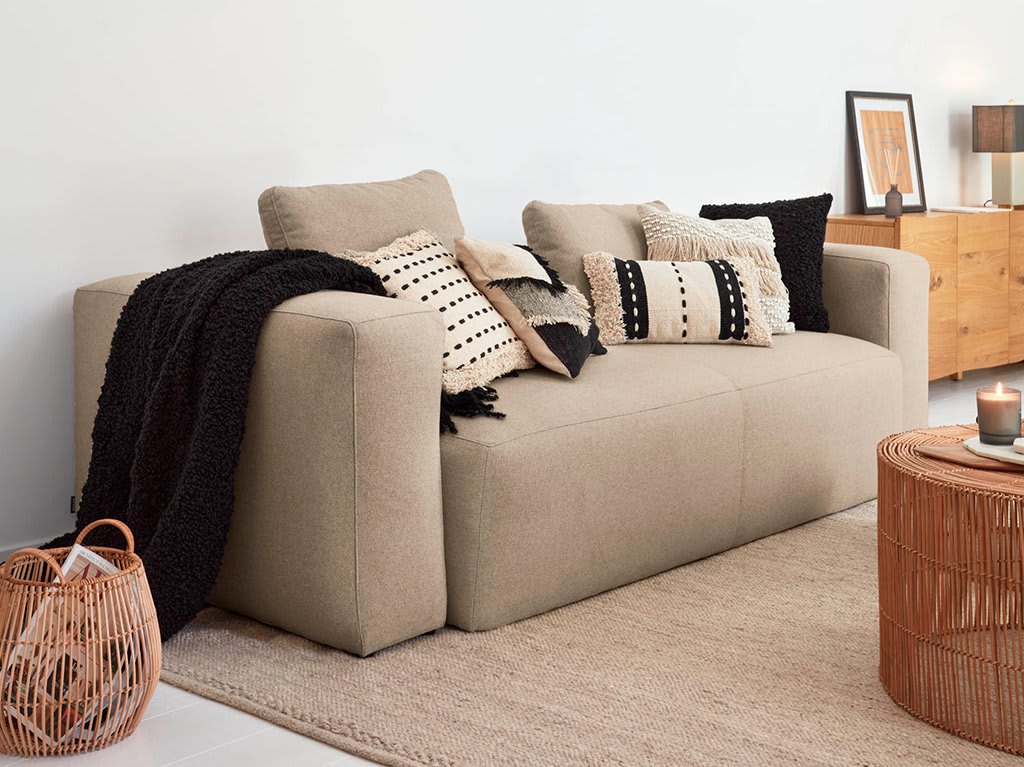 The sofa that has it all
There's nothing like coming home and stretching out on a comfortable, sustainable sofa like Blok, one of our in-house designs. Available in a range of finishes and sizes, it's an essential, timeless item for an up-to-the-minute living room.

Add pieces from our collection of fabrics in beige and black to create a contrasting winter look.

We've chosen lighting and storage baskets in natural fibres as well as trays and side tables in rattan. Because nature is in fashion all year round.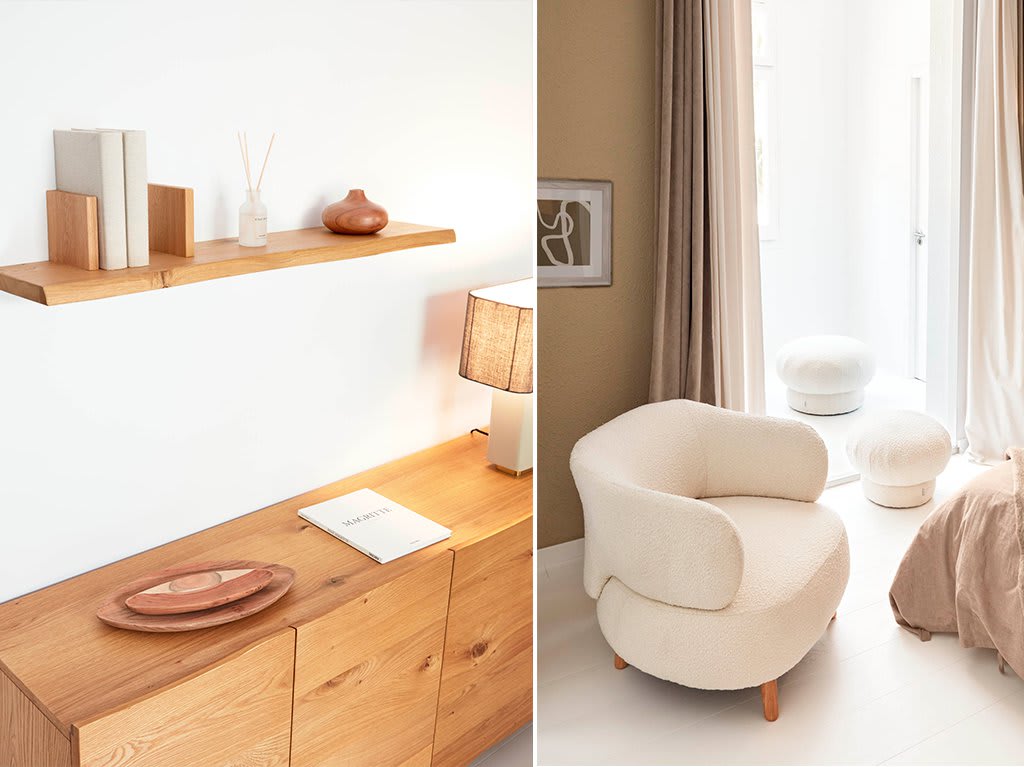 Shelves, sideboards and characterful nooks
The décor items in this collection include pictures, vases, candles, diffusers and much more. Like the Calen shelf, for example, they'll add personality anywhere.
Lighting is a category that plays a leading role in our homes, like the Clelia metal table lamp with beige and dark grey finish. It's perfect for illuminating your favourite spot.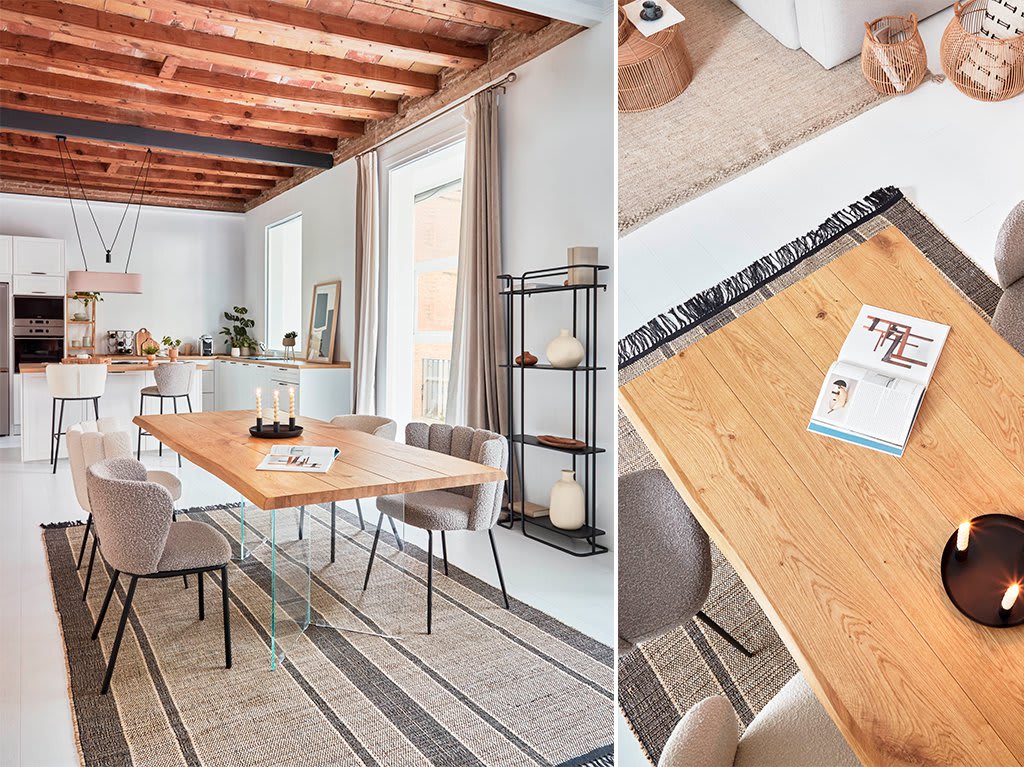 Maximum comfort
For maximum comfort, our Club armchair adds fleece to its ergonomic shape and folding headrest. One of the hottest fabrics around, the super-soft upholstery perfectly complements the original design and its organic shapes. And it's an in-house Kave Cares design.

The Comfy-est kitchen-dining room
Luxurious sheepskin was always going to look great on Aniela. A huge interiors trend, this unbeatably soft fabric combines with the cocoon-like tubular design to create the ultimate chair.

Designed for maximum comfort with contemporary lines, the Ciselia chair and stool also give a touch of style to your spaces thanks to its shearling upholstery, one of the biggest trends around. The perfect chair to make any occasion feel special.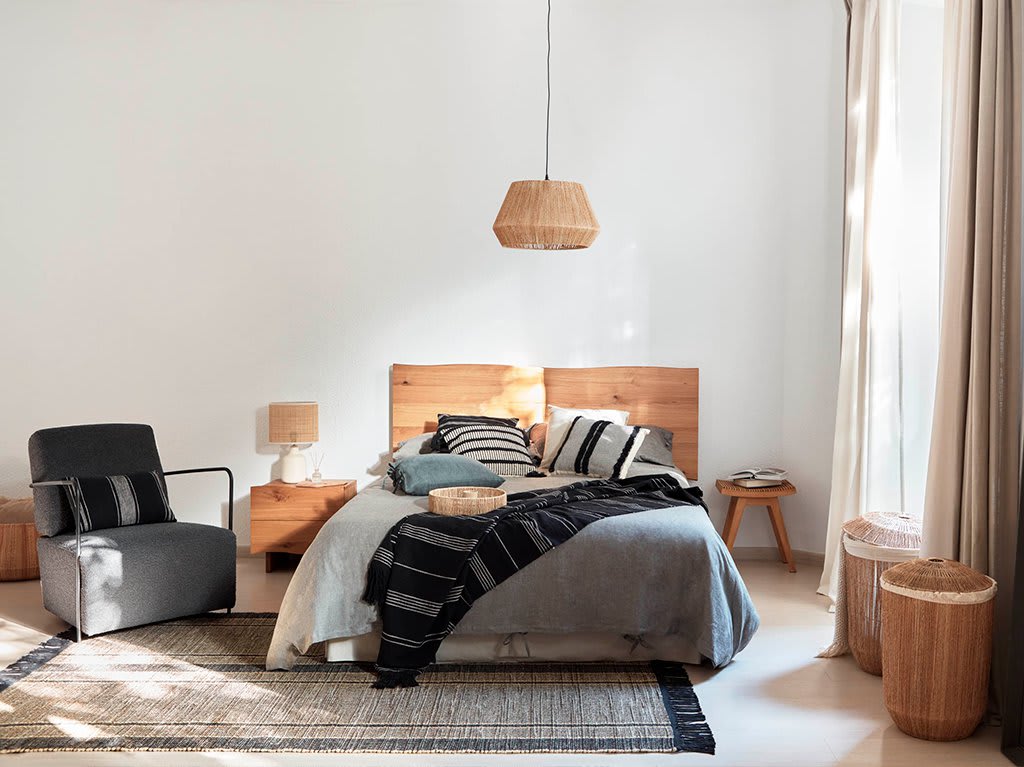 The master bedroom with a dreamy new look
You can sleep even easier when you know you're surrounded by eco-friendly pieces. Choose organic textiles with GOTS certification and furniture made from wood from forests with responsible felling, like our Kwuango side table or Rasha sideboard. Choose the right lighting to go with them and you'll have curated the ultimate do-not-disturb boudoir. The Ikia floor lamp with black shade will achieve that warm and relaxing vibe you're looking for.
Sept. 14, 2021, 8 a.m.