Before you decide not to worry too much about decorating your hallway, you may want to check what Feng Shui has to say. It turns out that the entrance to our home is vitally important as a tool for making our lives flow. Ideally, it'll instantly transmit a feeling of calm after a busy day and make you feel welcomed back into your comfort zone as you slip your shoes off. Coming home should feel like a luxury you deserve, so here are the seven steps to a perfect hallway.
1. Choose a Feng Shui-approved front door
Feng Shui tells us that the front door should be made of durable wood and be free of windows for a greater feeling of safety. You'll also want to ensure it closes well – best not leave room for any surprises.
But one key factor is that this door should be bigger than any other in the house, to establish a sense of proportion.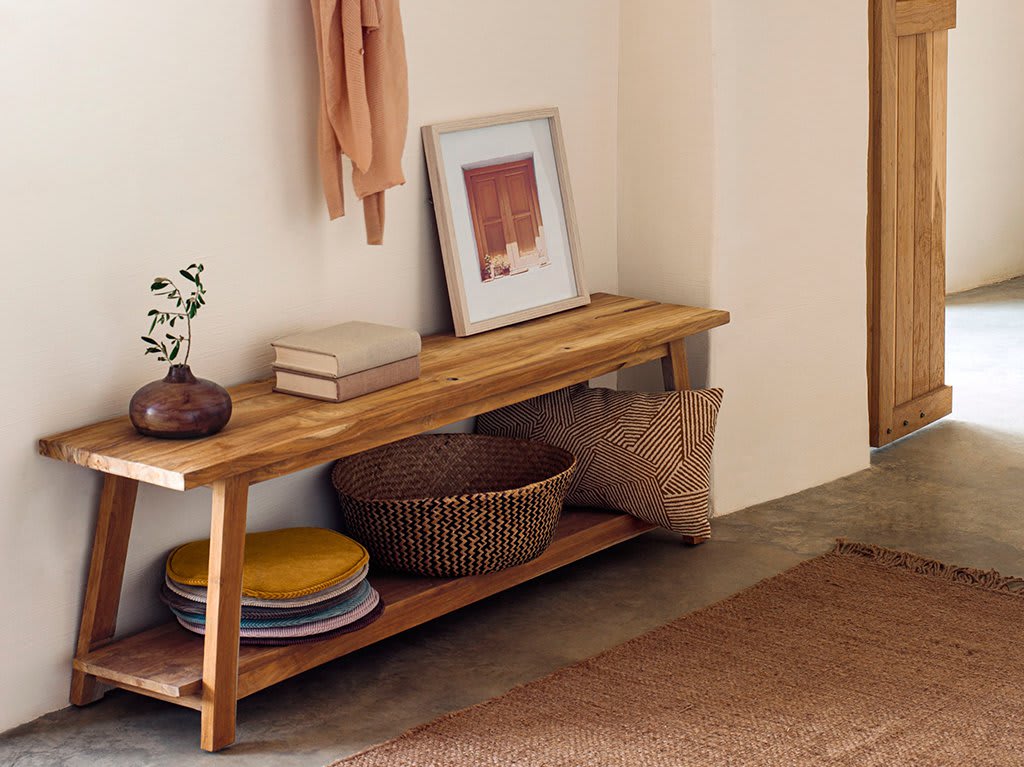 2. Keep the hallway clear
One of the things we love most about Asian décor are its clutter-free, minimalist spaces. You don't need to be a Feng Shui guru to know that keeping your hall clear of potential obstacles to trip over will help you feel calmer on your way in and out of the house.
It also means you'll be able to open the door fully – a point considered essential in Feng Shui, especially when it comes to welcoming visitors inside and making them feel at home.
The answer is furniture with storage options to keep coats, shoes and umbrellas hidden from sight. And as long as it's Feng Shui friendly, you'll be good to go.
3. A well-lit hallway
Choosing light colours will help reflect the natural light in your hall and you can always add ceiling lighting to brighten up the dark corners. Light plays an important role in the overall feel-good factor in your home.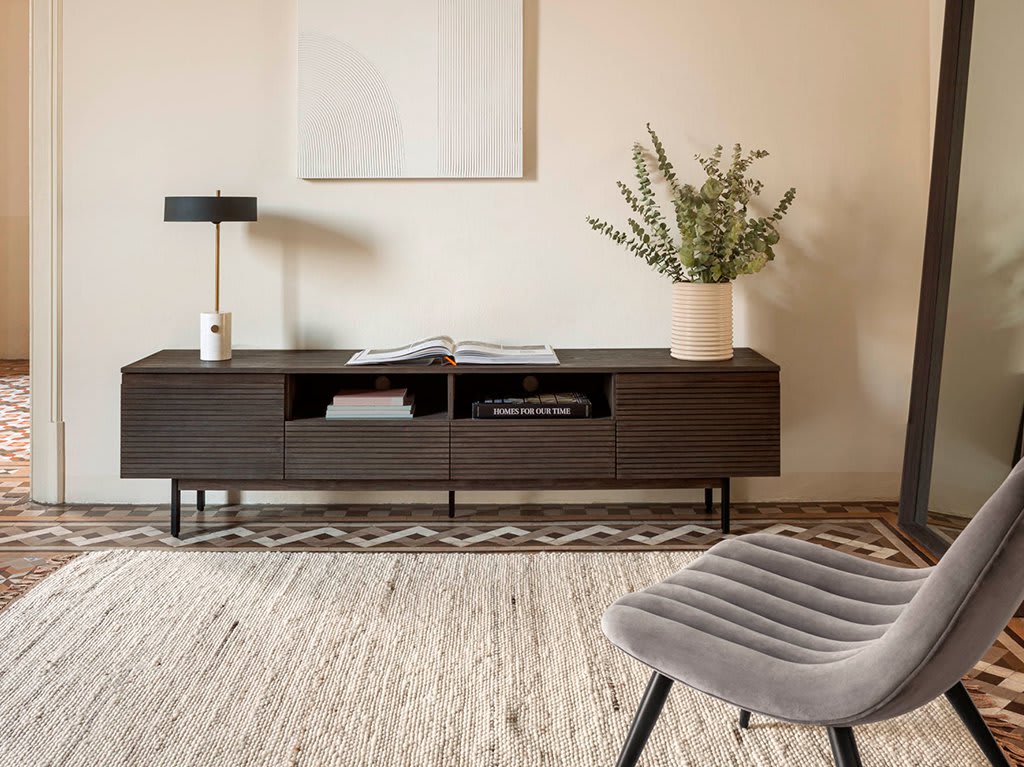 4. Hallway mirrors?
Feng Shui has a lot to say about where you should and shouldn't place mirrors. We always tend to recommend putting a mirror in your hall to make it feel lighter and more spacious, so ... could it really have a downside?
A hall mirror is generally a positive move as it radiates energy in an otherwise rather empty space. But the one thing to bear in mind when choosing where it should go is to avoid putting it right opposite the front door. It needs to be on one of the adjoining walls to avoid sending all your home's positive energy outside. Other than that, you're safe!
If you're curious to find out more about positioning mirrors for good Feng Shui, check out our post on decorative mirrors for Feng Shui décor.
5. Plants for Feng Shui hallways
Plants in the hall will help attract good energy and make the space feel brighter and more full of vitality. But be sure your plants are nice and happy living in the hall – you don't want to defeat the object! If there's is a lack of natural light, go for artificial plants instead.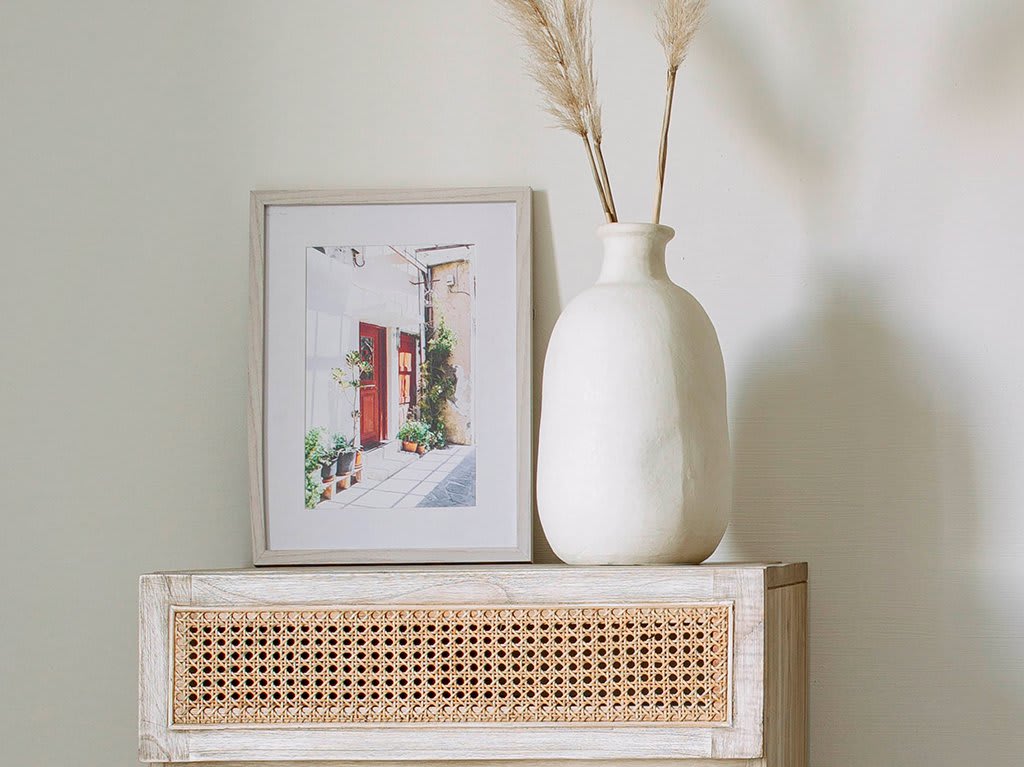 6. Photos and pictures in the hall = Feng Shui?
Security is a high priority in the teachings of Feng Shui, so to preserve your privacy you should avoid photos and very personal objects in this area of the house, where you receive people from outside. However, paintings get the thumbs up, so feel free to hang one (without sentimental value) where you like, to keep the positive energy flowing. Do, however, ensure it doesn't feature wild animals because apparently they attract chaos and can even put you in a bad mood. Who knew?
7. What about small houses? They can be Feng Shui too!
If your front door leads directly into a corridor or the living room, make it more Feng Shui by adding small details to create a hall-like feeling. This could be a small console table, a coat hook, or a bench with a rug to give you a welcome home when you walk in.
Read more tips in our blog to improve your home's positive vibes and become a true Feng Shui connoisseur.
June 4, 2021, 8 a.m.