When it comes to planning and distribution, consider enlisting the help of the Feng Shui principles to ensure that the layout of your home is contributing towards your well-being. Observing a few basic Feng Shui rules will send you on the path to improving the positive energy in your home. Here we've summarised the secret formula to getting the good vibes flowing through your home.
1. Clean & tidy: the first rule of Feng Shui
Get this part right and you're already halfway there. Cleanliness attracts positive energy and tidiness is not only visually pleasing but will also help you to be more productive and feel a sense of calm in your kitchen.
Keep the essentials to hand, classify utensils and ingredients based on how often you use them and the best place to store them in the kitchen.
You may have nailed the cleanliness part, but don't forget to keep the clutter in check too by getting rid of any items you no longer use and replacing any that don't work. Pamper your kitchen and you'll automatically feel pampered yourself.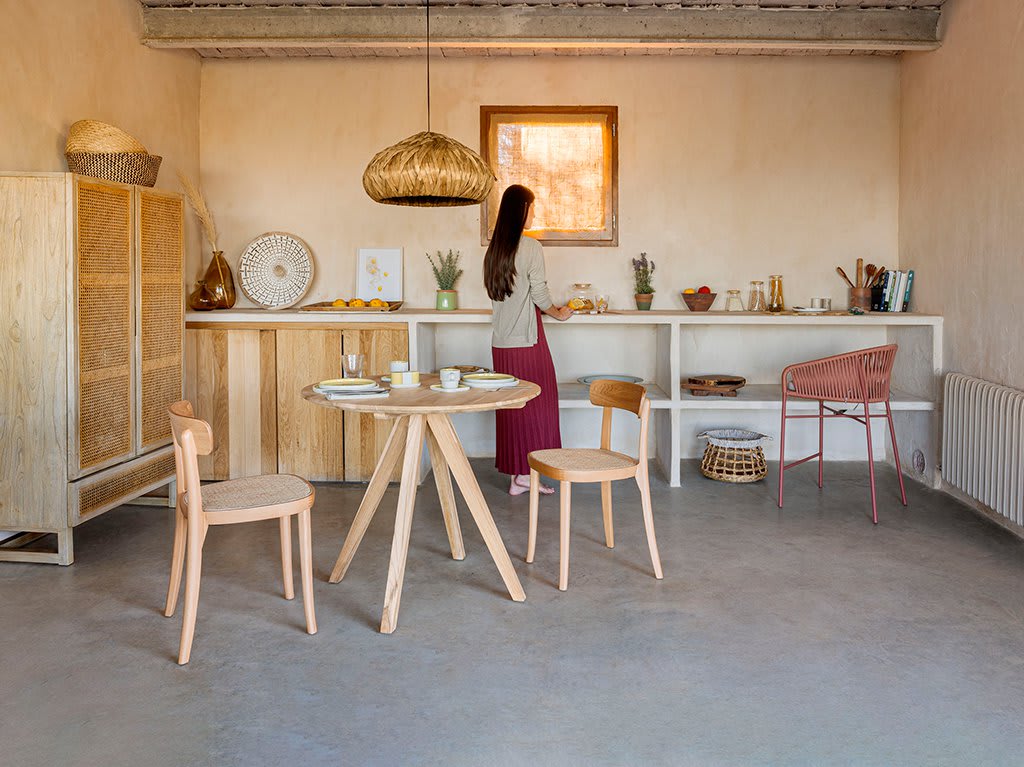 2. Put Feng Shui in the spotlight and you'll see things more clearly
Light up the dark corners in your home with good lighting. This is especially important in the kitchen where you'll want to see what you're cooking and achieve the right ambiance. Enjoy creating masterpieces at the stove? You'll need good directional lighting to get your gourmet creations spot on. Don't risk ruining your star dish! Guests coming round? Go for softer lighting to create the right atmosphere for a casual chat with a glass of wine. Our main tip here is to ensure the lighting is always warm, to avoid a "hospital" effect or "cold" feeling and to make the space feel lived in and cosy. And wherever possible, let the natural light flood in! In the daytime, mirrors work wonders for reflecting light and giving a greater sensation of space. Our post on "How to make a dark kitchen lighter" is the best place to start to discover the secrets to better kitchen lighting.

3.Feng shui colours in the kitchen
Never underestimate the enormous potential of colours to get the good energy flowing, and the kitchen is no exception. Here we recommend whites, greens, earth colours or greys. Light colours are perfect for making smaller kitchens look larger and brighter. Choose colours that tie in with your personality, and see the magic a coat of paint can work. Fancy a short-cut? You can also give it a touch of colour and life with a fruit bowl – they radiate good energy in the kitchen and encourage healthy living too! If you spend little time at home or want to enhance the colour of the fruit, you can also add a picture to bring more vibrancy and personality to the space.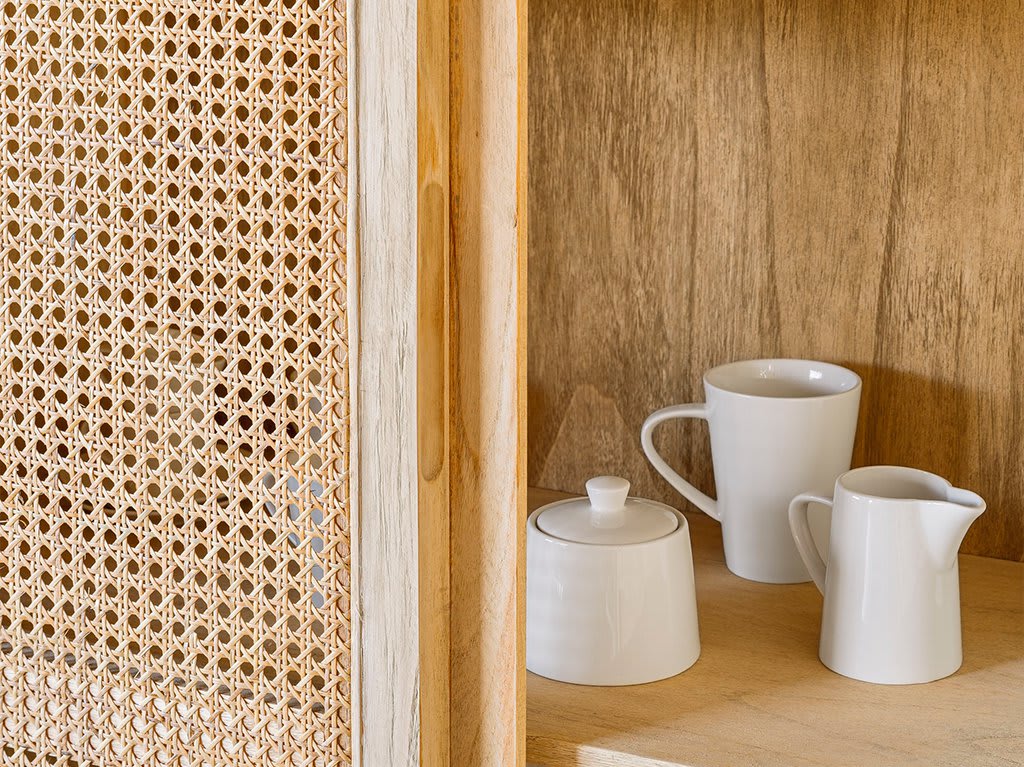 4. Where do the stove and sink fit into the equation? Feng Shui has you covered.
Apparently, water and fire shouldn't be positioned too near to each other to avoid conflict. So the stove (fire) and the sink (water) should be separated by an island or kept well apart. What if the sink is right opposite the stove? Feng Shui tells us you'll need to neutralise that by including an earth element such as a green rug, to attract the good energy back in again.
When we mentioned fixing or replacing objects that no longer work, it was no joke. The most important element to keep in optimum working order are the hobs because they symbolise the heart of your home and the focal point of your kitchen. So keeping it working well is essential, but don't forget to use all the rings on the hob, because in the eyes of Feng Shui, they metaphorically symbolise taking advantage of all life's opportunities.
5. Cupboards - the secret weapon for Feng Shui success
If you have high cupboards in the kitchen, make sure they reach the ceiling because a lot of negative energy accumulates on top of them. Yikes! This will also have the advantage of creating more storage space and making the ceiling look higher.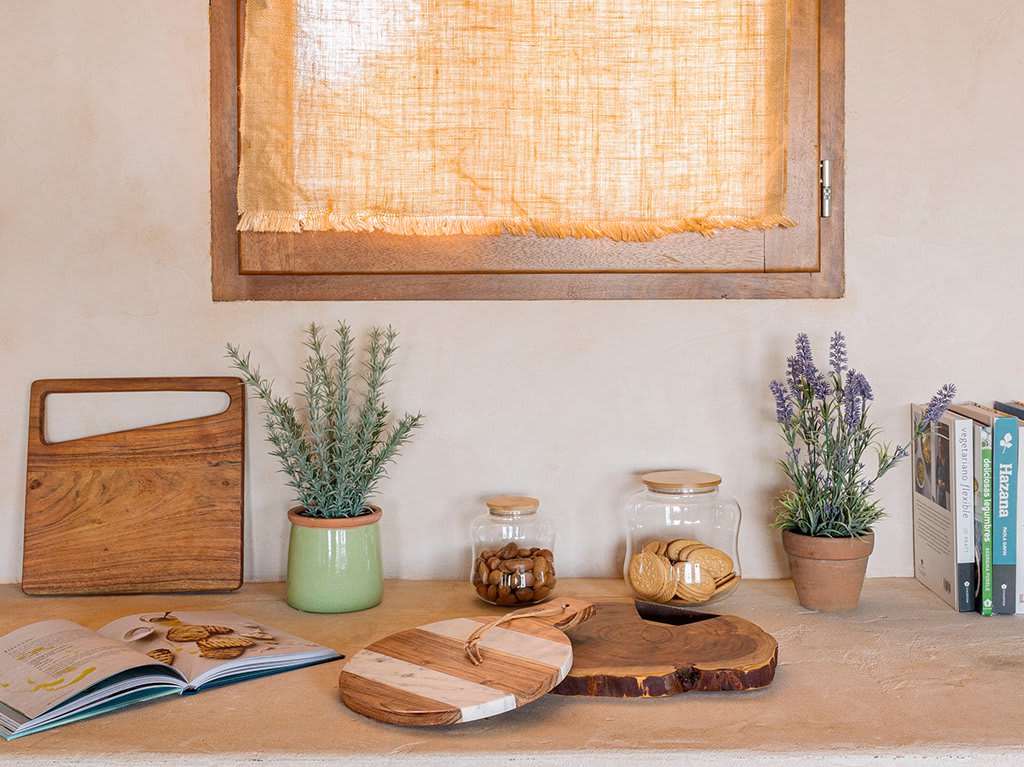 6. Natural decoration, the earthly element for a feng shui kitchen
Wooden accessories and utensils are key if you want to make your kitchen feel warmer – it'll be much cosier and attract prosperity. son clave para mejorar la calidez de tu cocina, será mucho más acogedora y atraerá la prosperidad. Cutting boards, jars and tins, kitchen paper holders, wine racks, serving baskets, utensil holders... the possibilities are endless!
And, if you have a dining table in the kitchen, you can choose a wooden option with matching chairs.
Another way to add an earthy element would be to decorate the kitchen with plants. If your kitchen lacks natural light, aim for shade-loving varieties or artificial plants.
7. Your kitchen's location according to feng shui
Feng shui recommends that kitchens are not in the centre of the home, at the entrance or facing a bathroom. And they should be on the same floor as the dining room and living room.
Now your kitchen is all in line with the principles of feng shui, you can add a personal touch to make it the best it can be. Need more ideas and tips? Read more on our blog.
June 11, 2021, 10 a.m.