The best decoration for your little's one room is the kind that's pure fun. Turn it into their favourite place to play. With these accessories, they've got everything they need to have fun while they learn. Yes, you read that right!
Off the wall
From now on, standing facing the wall is about fun. This is the place where they can unleash their inner artist – our easy-to-clean blackboard vinyls can be drawn on any time.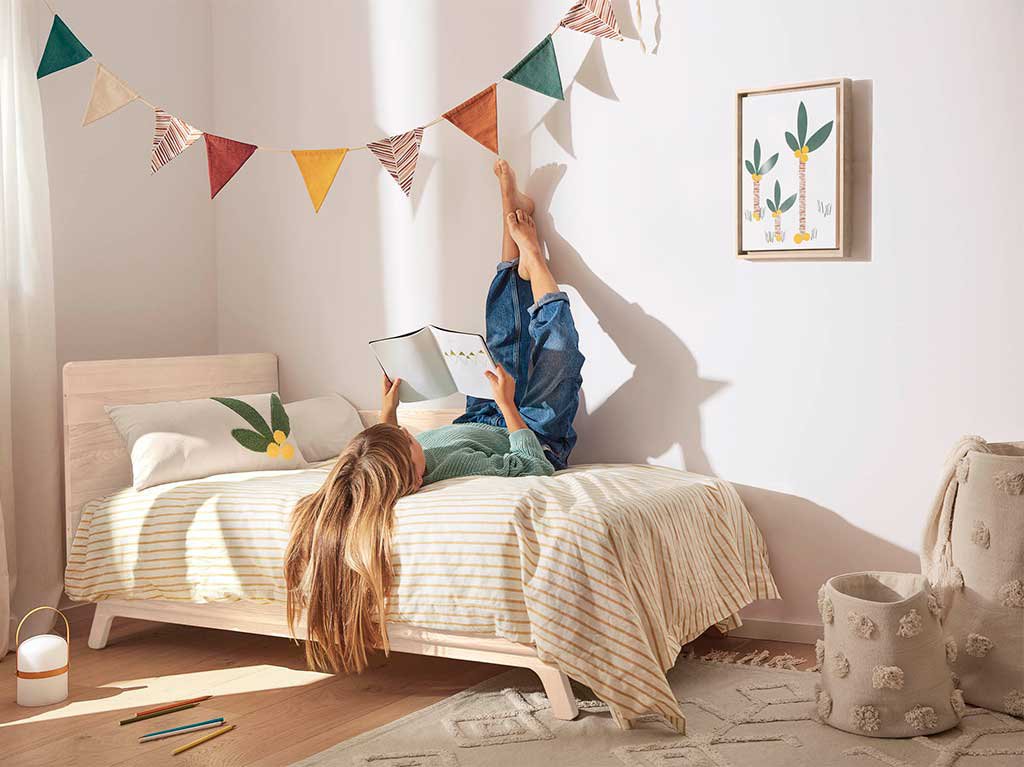 Technicolour details
Adding colour to their bedroom is much easier than you think. Fabrics such as cushion covers, bedlinen and checked bunting are a great substitute for paints and brushes. At Kave Kids, we've got four different styles to inspire them.
The floor is theirs
Your kids are in luck – playing on the floor is encouraged and with the Nisa rug, they've got a whole city literally at their feet. What's more, it has GOTS certification, which guarantees 100% organic cotton and eco-friendly, ethical manufacturing processes.
Let's get comfy
Enjoy special moments with your little one. With our Sarit floor cushions, made from 100% cotton, you can play in total comfort wherever you like as they're super easy to move around. Choose your favourite colour together!
Yes, you can learn and play
Kave Home has an exclusive evolving furniture collection inspired by the Montessori method. The Nuun highchair has different combinations and settings to encourage your child learn to do things independently and to help around the house.
Their space, their rules
For kids to enjoy their space to the full, they need the right equipment, especially when it comes to keeping it tidy. Give yours a a Maralis tipi hanger for clothes and baskets for their toys and see how much they enjoy taking care of things. Click here to find out more about the Montessori method and our Kids collection.
March 19, 2021, 10 a.m.