Did you know that experts recommend re-painting your house every three to four years? And spring is the perfect time of year because the paint will dry better and faster. So there's no excuse! Set aside a date in your diary and get ready to revamp your dining room. Take a look at our four ideas below and let your inspiration flow.
A dining room that exudes warmth
Warm colours always work well in home decoration because they're so easy to combine – try it out for yourself! Whether your décor is classic or ultra modern makes no difference. Cream-coloured walls are versatile enough to combine with furniture in any material or finish. Wood, metal or glass... the choice is yours, they'll all look good.
Our enthusiasm knows no bounds so we went for a combination of them all. The Amethyst table makes a statement in this room with its natural veneer solid oak top, while its black steel structure ties in with the Yvette chairs and pendant light.
Bright colours for small spaces
If you have a small dining room, you'll need to think even more carefully about the colours you choose. We recommend pale colours that reflect the light. Did you know that white actually comes in different tones and can look warmer or colder? For this space we've chosen an off-white with a slightly sandy tinge to help enhance the white doors and window frames.
We've also opted for glass here – transparent materials always add brightness and a feeling of spaciousness. The Lotus table takes full advantage of the space available thanks to its round shape and the design of its wooden legs.
Wallpaper: a quick and easy solution
If you want a radical new look for your dining room and you want it now, all you need is wallpaper. You only need to use it on one of the four walls to give the space a real lift. It will also create a sense of depth and gives the room a personality of its own.
Want to know the best part? At Kave Home, our team has created exclusive designs using sustainably-sourced materials that are easy to clean.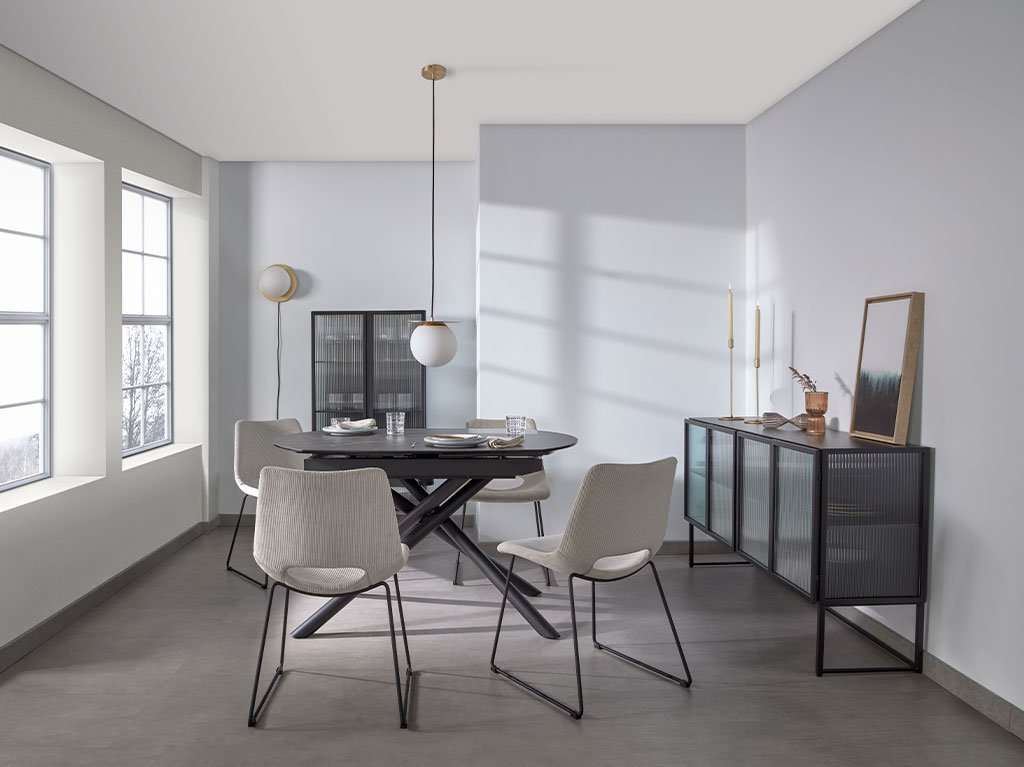 Neutral colours: a safe bet
You can never go wrong with neutral colours. It really makes no difference if you're into Scandi-style or can't resist a contemporary look, these are your go-to tones for every space because they're just so versatile. You can combine them with any type of material, and if you're planning to change the furniture, this range of colours will stay looking effortlessly elegant.
Feb. 7, 2021, 11:41 a.m.