One of the most exciting moments of the year is just around the corner - Christmas and its magical moments, from party to party. Are you hosting? You are in luck! We've got two easy styles lined up to dress your home and nail the Christmas decoration. Ho, ho, ho, here we go!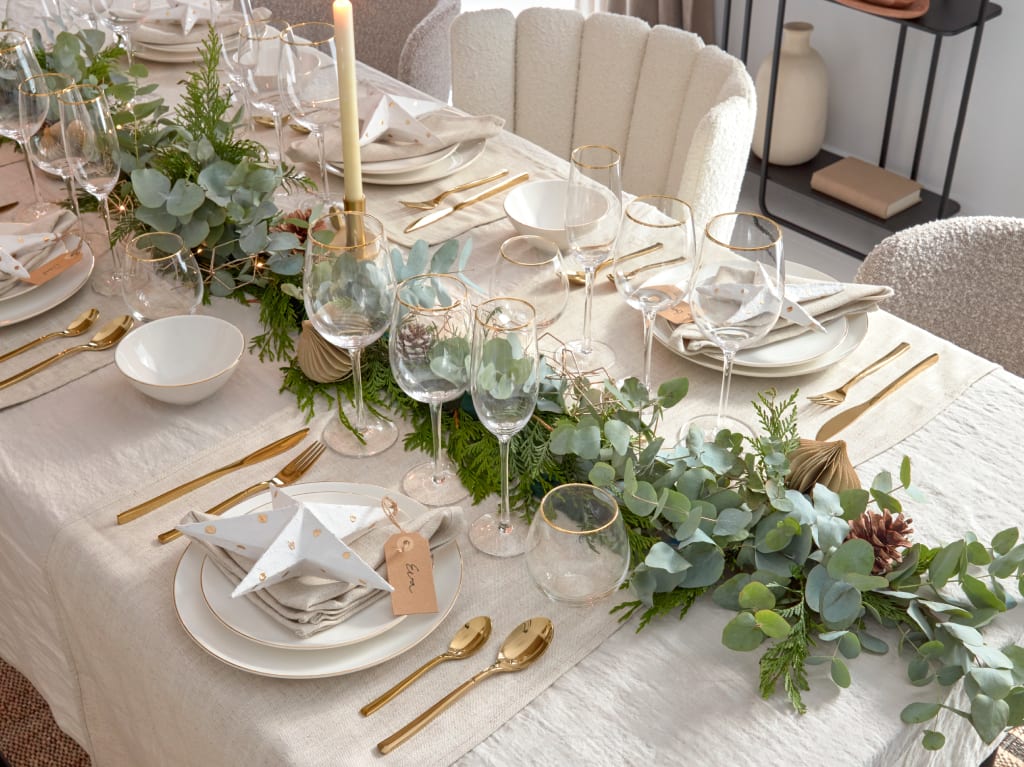 A traditional Christmas bursting with glam
The one great thing about classic Christmas décor, is that it is so traditional, you simply can't go wrong. Traditional Christmas decorations are the easiest to find at home or when you're out shopping, and they're basics you can use year after year.
We always love to use white, glass and gold decorations, accessories and cutlery to celebrate the festive season in style.
For Christmas 2021, we'll be decorating our Christmas table with Taisia dinnerware, in white porcelain with a gold edging to give it an elegant and festive touch, which goes perfectly with the Rasine glasses and tumblers, in transparent glass with matching gold rims.
Continuing with the same gold theme, we chose the Lite cutlery, which we have placed on an off-white background with our Samay napkins and table runners.
All that's left now is to add your favourite Christmas decorations. We have chosen elements that bring out the gold in the accessories: Victorina decorative stars for the centre of the plates, Adabella candelabras to add a warm touch and a natural centrepiece set off with the Narel ready-lit garland and Xilene decorative balls. Your table will be glowing with festive chic.
Looking for more accessories? Click here to see our selection of Christmas glam.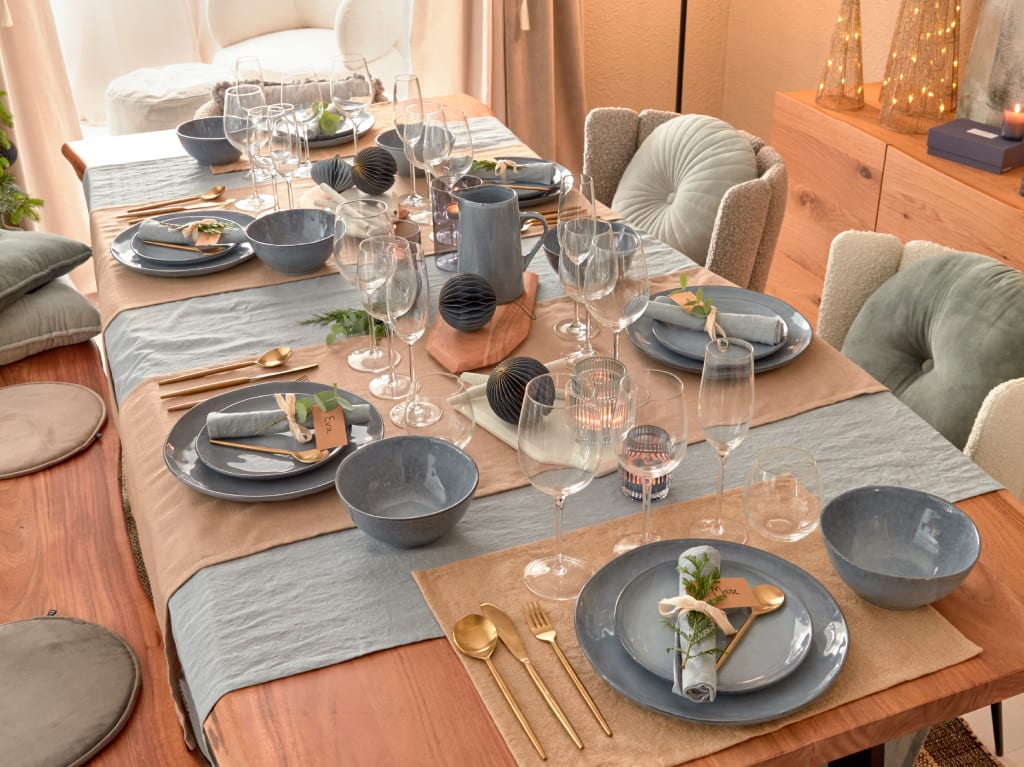 A trendy Christmas, blue everywhere
Our second style idea is dedicated to trend setters and fans of innovation and surprise. Who said that Christmas has to be red or white?
We have made a selection of decorations for your Christmas party that break with the classics, to bring a casual touch to your Christmas, plus it's suitable for different times of the year.
How do I achieve this cool blue touch? First, with a blue-grey tablecloth like Ilitia, followed by Airena tableware in a darker blue and a warm touch with Rylee and Florentine candlesticks.
To add a more Christmassy look, we've chosen the Lite cutlery in gold and added dimension by combining the Samay placemats and table runners in beige.
This will form the perfect backdrop for your Christmas decorations, but it's up to you whether to add more or less festive elements. We've tied in a natural touch with bows on the napkins placed on the plates, complemented the blue with decorative balls like Uriel and Xilene in the centre of the table and added some gold ornaments around the table, the Zidanelia garland and the Marleen ready-lit tree set.
Do you want to see our full selection of Christmas decoration trends? Click here.
Nov. 18, 2021, 8:33 a.m.