Estate agent Larsson Estate, with Scandinavian roots, offers a customised and quality service. Its properties are full of personality and they manage to create spaces like this apartment located in La Barceloneta. An apartment that you would love to be your new home. If you want to live the Mediterranean dream, this could be the perfect place to start. Shall we go in?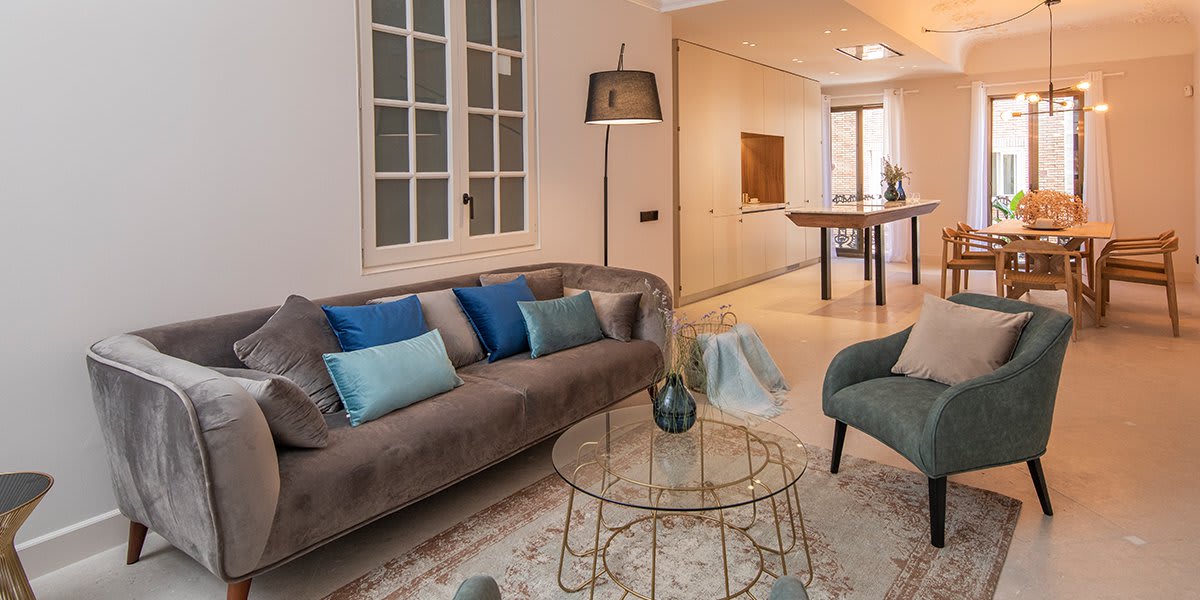 The spacious and bright living room will give you the best welcome together with the Olost sofa. The velvet piece combined with the Paradigm coffee table never fails. The interior designers at Larrson Estate add a vintage touch with the Bobly armchair and the Pek rug, two pieces that we love as they combine with the typical Barcelona architecture of the apartment.
The details in the living room make the difference. The Jolene side table with the iron rod structure and gold finish is a very versatile piece that you can move and place in your interiors whenever you fancy a change. Following the line of cool colours, we find the Wrigley painting, occupying the white wall in the entrance hall with its minimalist style. A great idea for decorating your hallway with a touch of colour.
On the left we find the modern kitchen that revolves around an island. This area is without doubt a space of contrasts, suitable only for the most daring. The open kitchen combines perfectly with the Argo wooden table and Nina chairs. Two pieces of wood with a natural finish that form an enveloping and relaxing atmosphere.
When it comes to decorating the bedroom, we find pieces like the Electric mirror made with natural tea branches or the Nomand picture that brings an ethnic style to this space. The Eider bedside table also follows the same line and aims to bring nature home, as it is a piece made of solid acacia wood.
The other bedroom has an elegant style thanks to the combination of white with tones like brown, black and bronze, which we find in the details and accessories. If you are looking for an elegant and minimalist combination, the Kaori side table, like the bedside table, is ideal combined with the Amina wall lamp. The latter has a movable metal shade with a dichroic finish, one of the latest trends in decoration!
Why give up a reading corner? Make the most of the space of any corner and place an armchair, a lamp and voilà... your corner is ready! Our tip: if you don't have much space, an armchair like those in the Fly collection will adapt perfectly. A piece that stands out for its simplicity and also for its dynamism, thanks to its metal structure.
Great, right? Do you feel like starting your day having coffee on a small and cosy terrace in the district of La Barceloneta? Find all the details and furniture that the estate agent has chosen to design the apartment in this selection.
July 9, 2020, 12:32 p.m.