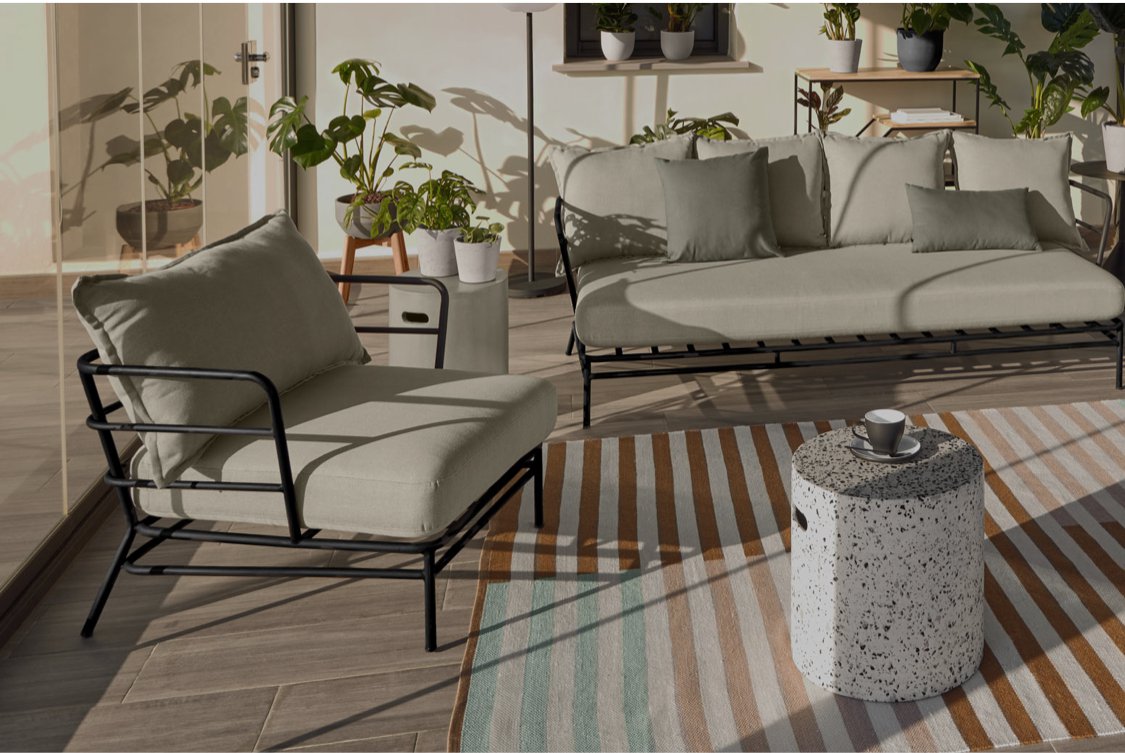 Outdoor Collection 2021
Better at Home
There's no place like home, especially when you've got an outdoor lounge like this in your garden, a pool with loungers or a big patio for al fresco dining. We've designed this collection to help you enjoy the perfect day all year round – discover it all.
See edit
The great outdoors all year round
With this collection, we've created the fantasy terrace for any weather and any day of the year. Designed to be enjoyed on even the greyest day.
Steel sets the tone for this armchair, combining comfort and style. Thanks to its lightweight design, it adds a sense of light and space to our covered outdoor areas, inviting you to fully unwind.
Dinner time!
This is a space for sharing, relaxing, and enjoying every second. Your personal paradise for enjoying peaceful afternoons and impromptu parties. Everything's better outdoors.
The Hanzel table is made from 100% solid sustainable acacia with a teak-effect oil finish. When it comes to outdoor furniture, natural materials are best for connecting with the world around us. You'll never want to come inside! The perfect setting for lunch with friends in the sun, swapping memories that get wilder and wilder as the hours go by. Sounds good, doesn't it?
"Your home is a match for any restaurant. The perfect place to bring out your inner chef, especially if you've got some outdoor space for summer entertaining."
Browse the whole kitchen, textiles and accessories collection and score 10/10 from your guests.
All you need to do is pour the drinks. Save yourself endless trips to the kitchen with the Felisa hostess trolley, made from solid sustainable acacia wood. The wheels make it easy to move around and your bottles will stay in their place. Bon appetit!
There's room for everyone
Build a living room for relaxing outdoors with the Flavina corner sofa set, made from sustainable wood and offering enough space to be enjoyed with company. The side tables at each end are a handy place to rest your aperitif.
Get the very best out of your terrace with the Duka sofa. Being modular, it adapts easily to any space. Made from weather-proof aluminium, it's especially resistant and long-lasting.
To complement the new corner collection, we recommend our cushions designed for 100% outdoor use. We also have a wide range of rugs made from eco-friendly PET, a material that makes use of recycled plastic bottles recovered from the sea.
Loungers, hammocks, relaxation!
Monday to Sunday mood. There's no place like home.
For open-air relaxation, simply find your spot and get into position. We've made it easy for you with this new collection of loungers and hammocks. Our Caterin sun lounger has a backrest with four positions, green UV-resistant mesh and wheels that make it easily moveable. What's more, the solid eucalyptus wood is sustainably sourced.
As we've always said, if you've got outdoor space, you're living the dream.
Outdoor and mobile!
Want to light up your world without the need for switches or plugs? The new collection of 100% outdoor and movable lighting that you can reposition whenever you like. Like our Daniela lamp, which would love to light the way wherever you go.
Mix and match as you wish
For meals indoors or al fresco, the Yanet chair adds a laid-back look to any space thanks to its hand-woven cord seat and suitability for use in covered outdoor spaces. Cement is a natural material and a huge look in urban outdoor spaces. The best part is that you can enjoy it all year round as it's tough enough to resist extreme weather. Itai ticks every box, we reckon.