The nice weather is officially here and, with it, the incredible dinners on the open air. Because going to a restaurant is nice, but enjoying your home and terrace to the fullest is more rewarding. With these tips by Maria Bermúdez, interior designer (@quefalamaria), and our new kitchen collection, you'll be the best host!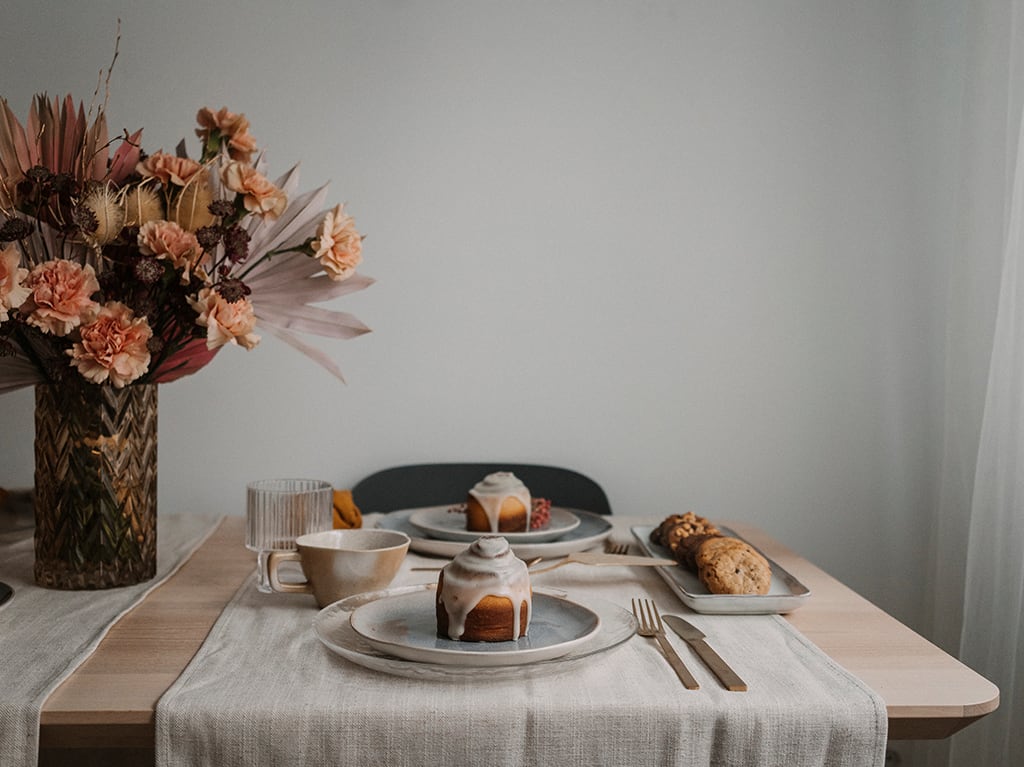 Dinners have become a perfect way to reunite all your friends and family, and we want you to leave them breathless. These tips are perfect for formal or informal gatherings, you just have to let the style flow.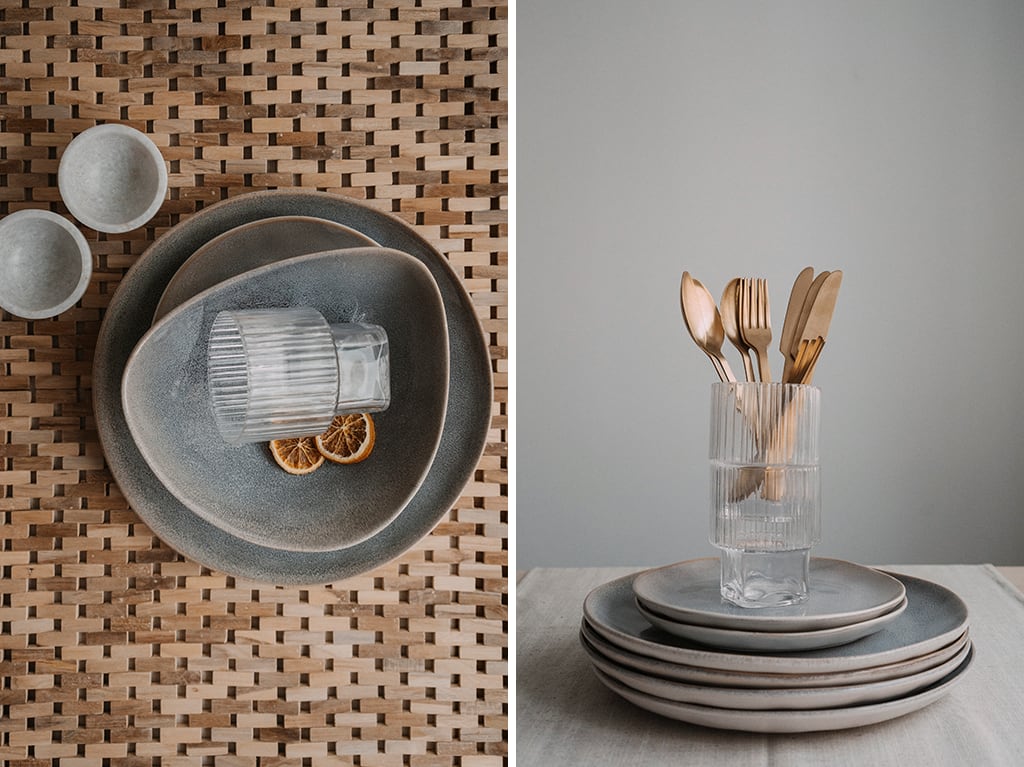 1. Choose the colour palette

Summer and spring are all about bright and light tones. For example, white is always a good backdrop to add any colourful accessories. Maria decided to create her table setting with white and blue, two colours that resemble the sea to boost the summer feel. So, here's a good secret, if you can't go to the sea, make it come to your table.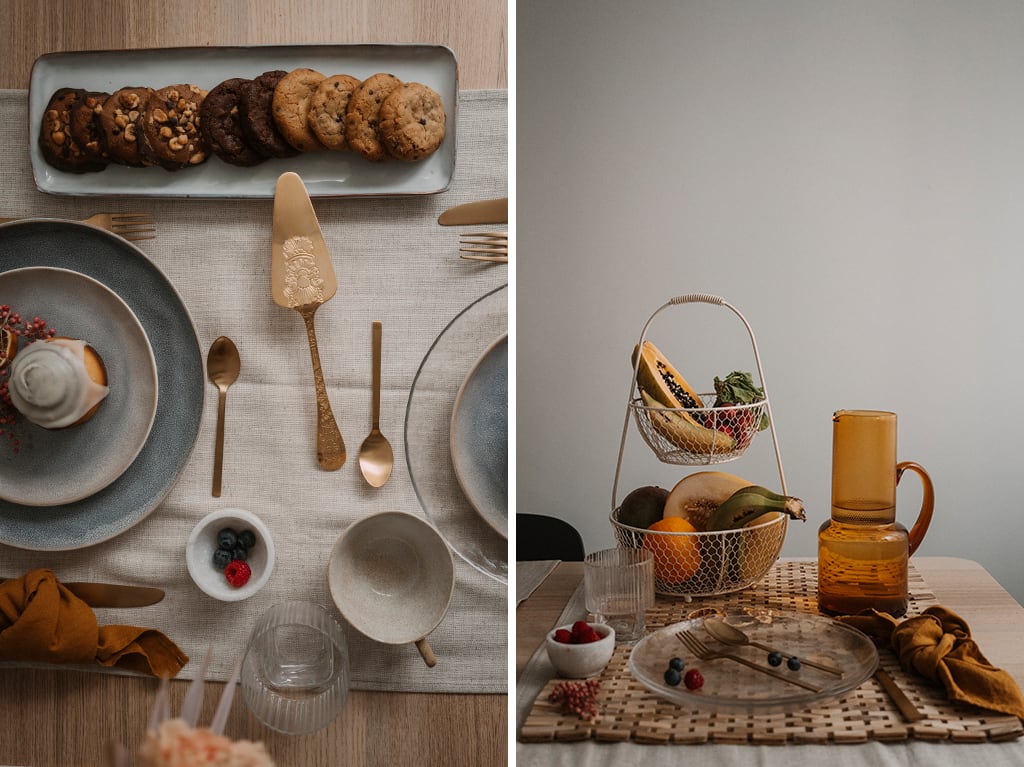 2. Cover the table

There are options for round or rectangular shaped tables, we've got you covered. If you have a round one, linen table runners are your must-have. We have them in many colours so you can match it to your style.
For rectangular tables, placemats are a great option. The Azalea set is made of teak wood, perfect to create a natural setting. And, if you love minimalism, the Samay fabric made set is a great idea.

Sometimes you don't have to cover the whole table, this is a perfect way to combine different materials with your plates and accessories. Maria decided to showcase her wooden table and combining it with white tones and the Azalea placemats.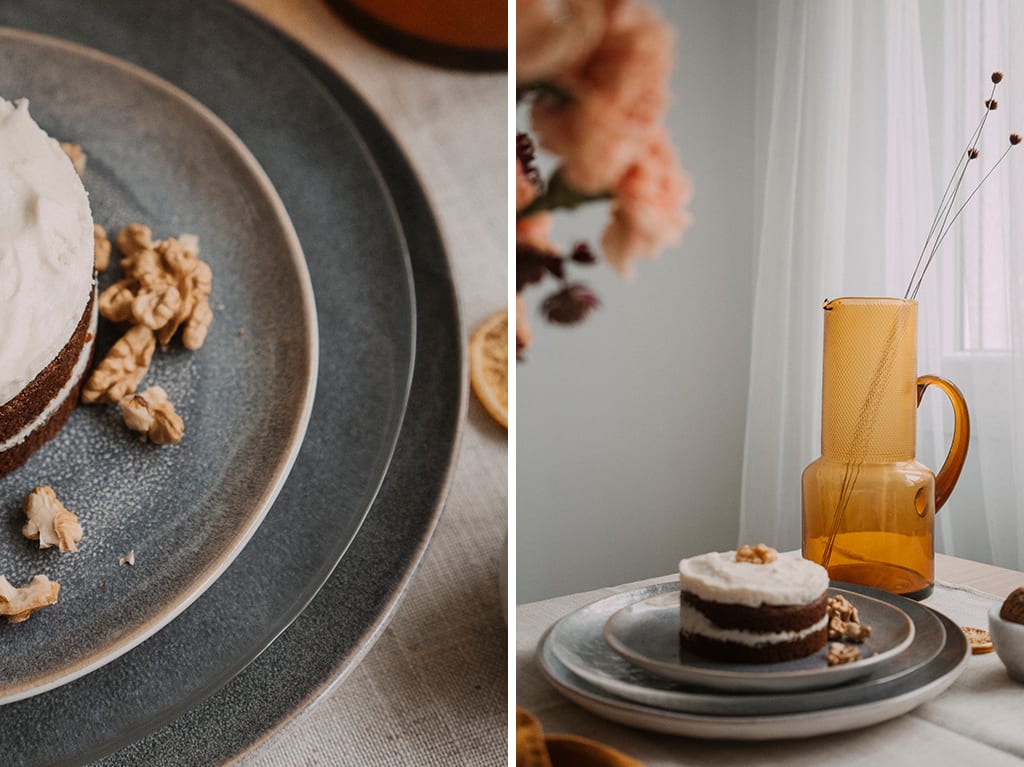 3. Do you need help placing your plates?

Mix & match with natural style. Take note of this tip:
1. A placemat or table runner to work as a background.
2. Choose a big plate.
3. And add a transparent one on its top.
4. Finally, the dessert plate will add the final touch.

4 simple steps to get to the top! In this table setting the ceramic Sachi light blue and the Saree clear glass collection are on the spotlight.
A good alternative if you are more of a neutral tones lover, is the Vreni beige collection.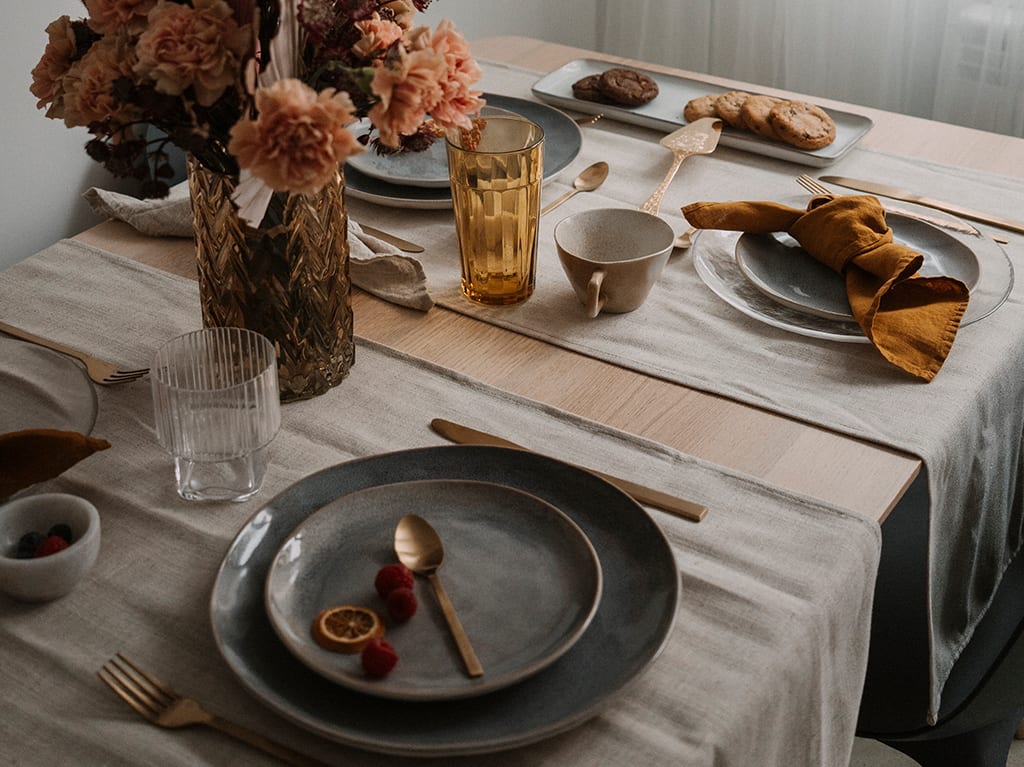 4. The cutlery: small details, huge difference

Maria has chosen mate golden cutlery for a glamorous look. Her favourite tip is to place all the pieces around the plates or stylishly putting the spoon on the top of the first plate.

5. Napkins, a great way to add colour


In this case, the mustard-yellow Samay set is on the spotlight. Knotting your napkins and placing them by the plate is a pro and original touch to boost the style of your table. Did you know that you could also put your cutlery in the knot? Discover how in our IGTV.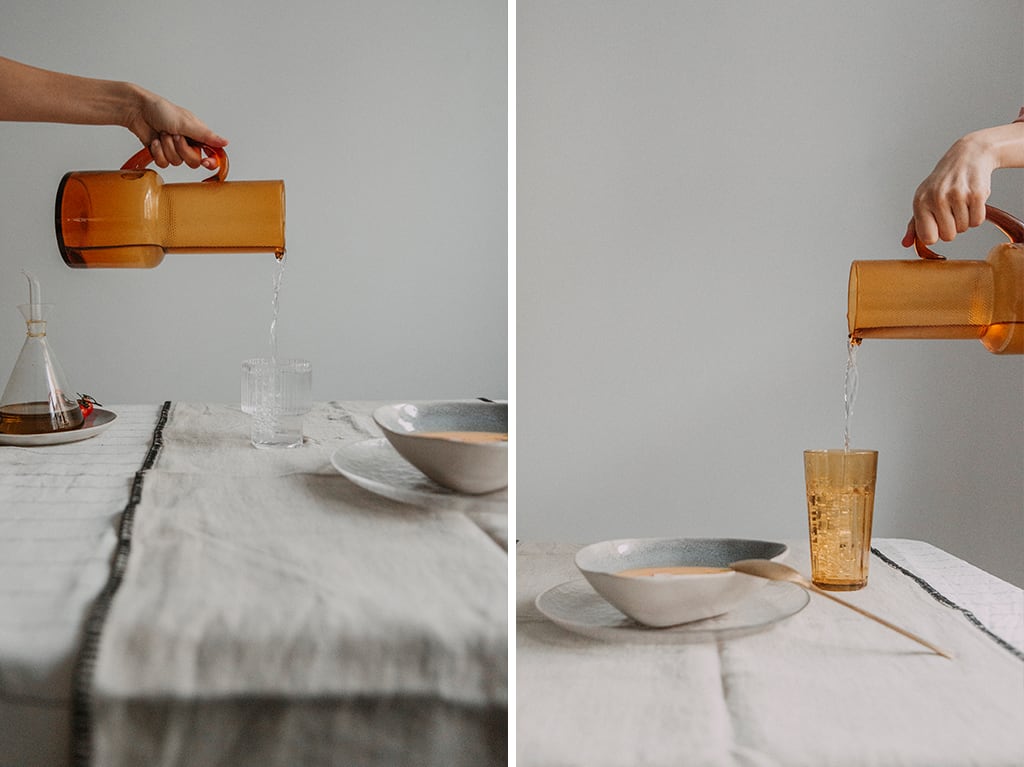 6. And what about the glasses?
The Sheli glass is a great choice to any setting, the clear glass and its suare base make it minimal but unique. It looks amazing combined with the mustard-yellow Nausica jar, which is a great way to add volume and match with the colours of the napkins. Check out the Nausica glasses to create a colourful setting!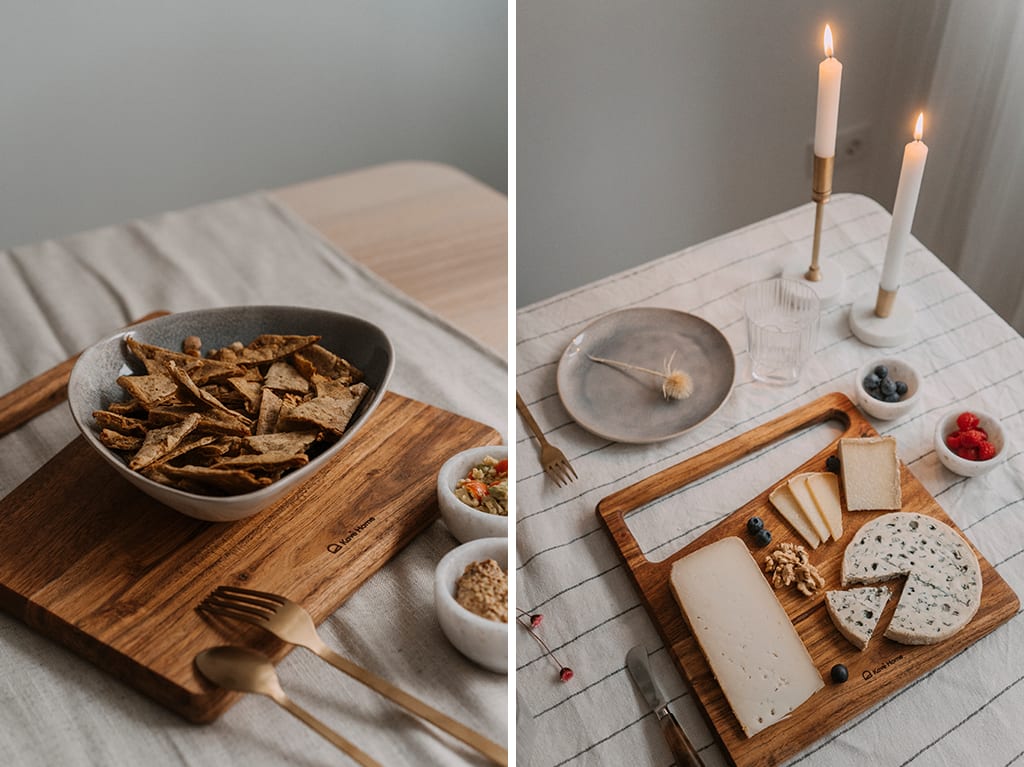 7. Be the difference

Bowls or cutting and serving boards are some examples of more accessories to make your table settings leave your guests in awe.
Here, the Serilda serving board is wonderful to decorate and serve cheeses and meals. The Yanila is the final touch to this natural wooden look.
And, if you are looking for an elegant way to set your table, the Llaska candleholders are just what you need and perfect to combine with the Callahan set of 2 bowls or your cutlery. Awesome, right?

Keep in mind to add similar colours and materials to create a coordinate look.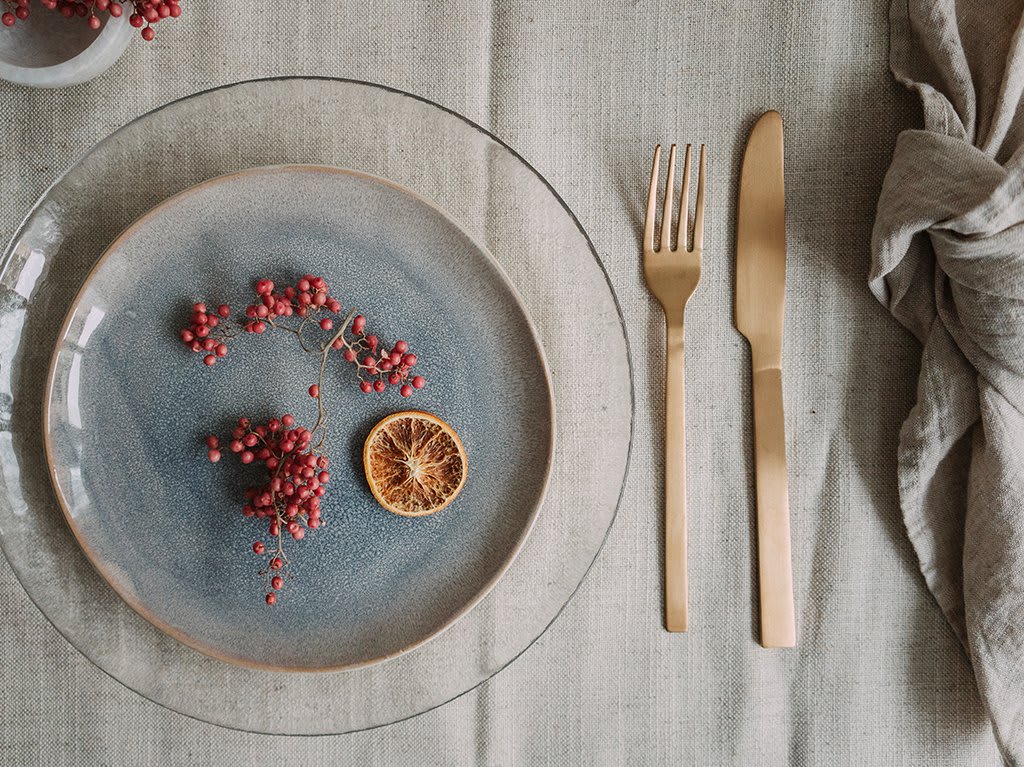 8. Vases and flowers

Flowers and natural elements are essential. Check our vases and jars, our tip to choose the perfect one? Make sure it's not too tall so it doesn't disturb your conversations.
Maria loves to decorate her table settings with dry flowers or dried fruits, such as dried red pepper. We can't wait to try it out!

Because, sometimes, the best restaurant is at home.
July 9, 2020, 2:28 p.m.